Fri, Mar 19, 2021 at 12:06PM
---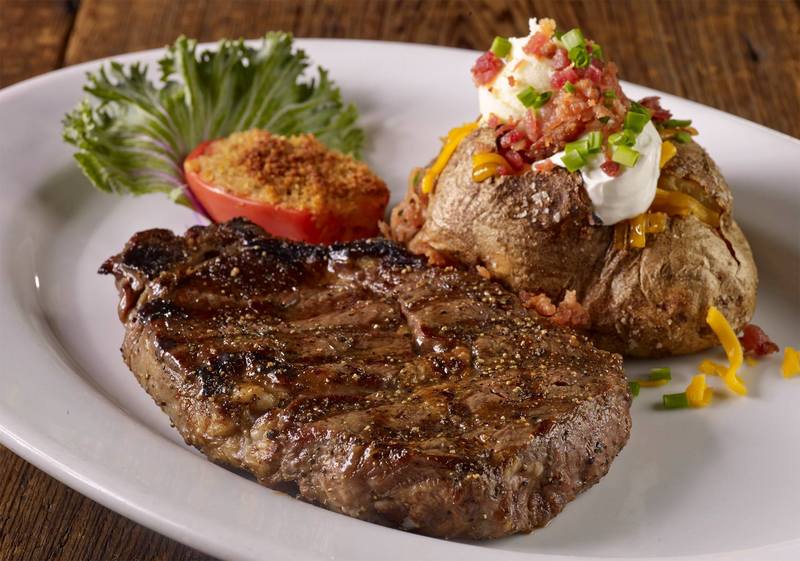 Looking for a hearty meal? Celebrating your special occasion with a great dinner at a restaurant Ormond Beach loves – or just making your Saturday special with some savory goodness? Sinking your teeth into some oak-grilled, aged, corn-fed, Midwestern beef is a surefire way to add some sizzle to your supper. However, with all these amazing, hand-cut steak options on the menu, how can you best learn all you need to know to order your perfect cut of meat? Read on for an overview of the basics – so you can make your next Stonewood order with confidence!
Selecting Your Cut
When you glance through a menu of delicious, hand-cut steaks, you'll see a familiar slew of phrases: sirloin, filet mignon, ribeye, prime rib. But do you truly know the difference between these cuts and how to best enjoy them? Let's review the basics.
Sirloin is a versatile, naturally lean, and often affordable cut. Our thick, center-cut sirloin is juicy and delicious – it's a great crowd-pleasing steak perfect for a mid-week dinner. However, if you're hoping to get a bit more upscale, you might opt for the filet mignon, instead. This steak is known to be smaller-portioned, but is deliciously, buttery-tender – it comes from the tenderloin, lacking tough muscle.
A ribeye steak is known for its intense, delicious meaty taste, coming from marbled, flavorful fat. Finally, though not a traditional steak, you might be interested in enjoying some tasty prime rib – cut from the primal rib, much like the ribeye, but slow-roasted and served up in flavorful slices with horseradish sauce and rosemary au jus.
And How Would You Like That Cooked?
Besides selecting the cut, another important factor in your dining experience is selecting how you'd like your steak prepared. If you're unfamiliar with the scale of steak "doneness," this might seem complicated but we have some advice for you!
Preparing steak to the correct doneness takes the skill of our talented chefs – the type of cut selected determines how long a steak should be cooked, and it's important to achieve certain target temperatures along the scale.
The option you choose is partially a matter of personal preference – but also can be assisted by understanding the qualities of the cut you chose. Rare steaks are prepared with a cool, red center – this option is often utilized for low-fat-content steaks, like the filet mignon, as higher temperatures are necessary to melt fats present in other cuts. Moving along the scale, medium-rare steaks have a warm, red center. This is a widely-recommended way to cook steaks – as it helps to melt the fats in question without evaporating all the steak's moisture.
Medium-cooked steaks have a warm, pink center – a flavorful option that falls in the middle of the scale for crowd-pleasing results. Medium-well has a slightly pink center and increased moisture loss, while well-done steaks have little or no pink and can sometimes be tough.
Perfect Side Pairings
A steak dinner is incomplete without some tasty side dishes! Select your choice of a side with any of our hand-cut steaks. One of the most popular steak side dishes is potato, and depending on your preferences, we offer four options: baked, roasted garlic whipped, potato medley, or French fries. But if you'd rather have a vegetable, there are more options to explore! Try our sautéed green beans, creamed spinach, or marinated grilled asparagus! If none of those options catch your fancy, try our delicious poblano rice. For an added bonus, start your meal right with a fresh and delicious Stonewood salad – your choice of house or Caesar.
Stomach growling yet? When you're ready to figure out your perfect steak order, or even just seeking out great places to eat in Ormond Beach Florida, Stonewood is standing by with plenty of delicious, signature-blend-seasoned cuts. Visit your nearest location today for a dinner to remember!