Fri, Mar 19, 2021 at 12:05PM
---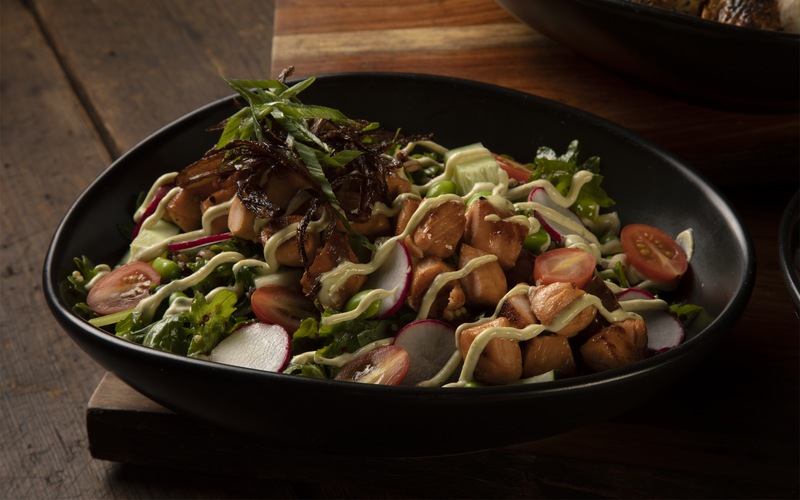 In the past year, many of us are putting off our travels and opting to find our adventure in smaller ways. Maybe you're enjoying some escapism with a great book, binge-watching travel shows, or rewatching movies set in faraway spaces. Perhaps you're even planning our your next vacation adventure for the next possible opportunity. If you can't stand the waiting, we have another great idea – take your taste buds on a journey! It's as easy as swinging by one of your favorite restaurants in Daytona Beach! Our own Stonewood menu features a variety of dishes inspired by cuisine around the world – so read on for a few ways to explore our offerings.
Start With Some Southern Specialties
A journey of a thousand miles begins with a single step – so start your cuisine journey with some humble Floridian roots! Our 8 Florida Stonewood locations are always prepared to infuse our cooking with some classic, Southern, Floridian flair – whether than means putting a new spin on old favorites, taking advantage of local ingredients, or anything else that creates an amazing dining experience. Might we suggest our Southern Fried Shrimp Platter? This Stonewood favorite brings you all the local tradition of crispy, jumbo shrimp, elevated with a tropical kick in the form of tasty pineapple chili sauce. If you can't get enough fresh seafood, make dinner exciting with some market fresh fish! There's a reason we're among the best seafood restaurants in Daytona Beach, Tampa, Wellington, and everywhere in-between! Whether you choose our Atlantic salmon or ask your server about our fresh catch of the day, you're sure to enjoy a great meal.
Or Kick It Southwest Style
Ready to swap the familiar Florida humidity of dinner in Daytona Beach for some dry heat and a stunning desert landscape? The American Southwest is an incredible region with amazing art, culture, and especially food with its roots in Native American and Mexican cuisine. We aim to capture some of these signature flavors in our Southwest Chicken Bowl – featuring Santa Fe style chicken breast over poblano rice, topped with black bean & corn salsa, pico de gallo, tortilla strips, basil avocado aioli, and a spicy kick of jalapeño. Plus – serving it up in a bowl is the perfect way to dig in!
Try Some Asian-Inspired Flavors
Let's take our journeys a little further – even to another continent! East Asian cuisine is often recognized for its fresh ingredients and flavors – often incorporating delicious fish and vegetables. We love to incorporate some of those tasty flavors into our Stonewood fare. For example, our Salmon Bowl is accented with a Ponzu ginger glaze – a tart and tangy citrus sauce regularly used in Japanese cuisine. Enjoy it on salmon alongside jasmine rice, baby kale, edame, cucumbers, radishes, grape tomatoes, scallions, crispy shallots, and an avocado crema. Not feeling like seafood? No problem! Our Asian Chicken Salad features oak-grilled, ginger lime marinated chicken breast atop mixed greens, accented with crispy wontons and chilled sesame noodles. Add an Asian slaw and sesame ginger dressing for the perfect meal!
Enjoy a Taste of Italy
Have your heart set on finding some fresh – yet hearty – feel-good favorites? You can't make a better choice than opting for an Italian feast! Start your meal with a Bruschetta appetizer. This Italian antipasto favorite traces its roots as far back as ancient Rome – and it's clear why the dish has stood the test of time! Vine ripe tomatoes, basil, garlic, aged Parmesan, and balsamic dressing make the perfect topping for our griddled garlic bread. For the main course, you can't go wrong with pasta! We have you covered with our Blackened Chicken Pasta, pairing bowtie pasta with spinach, flavorful sun dried tomatoes, asparagus, and a chardonnay cream sauce. Don't forget the garlic bread!
We hope that a delicious Stonewood meal can help sate your wanderlust – at least for a little while! When you're hungry for a great meal and seeking places to eat in Ormond Beach and beyond, stop by your nearest Stonewood location for dine-in or Curbside-to-Go, order delivery, or reserve a Family Bundle to feed the whole crew. We look forward to serving you!