Sun, Apr 14, 2019 at 9:10AM
---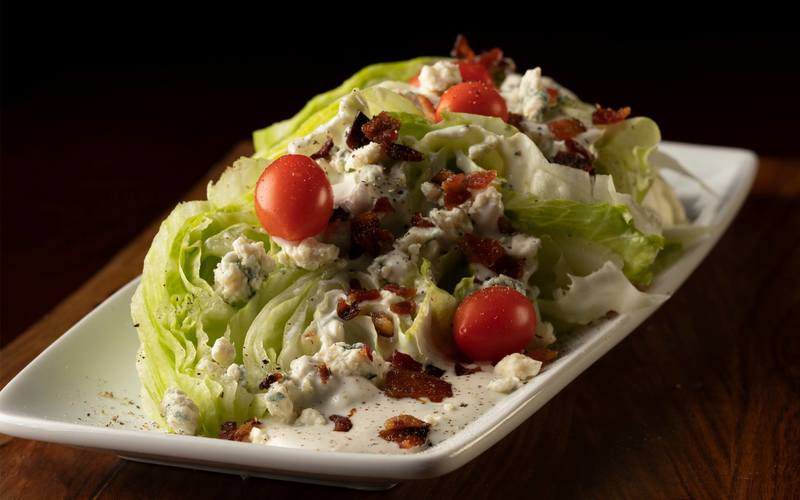 Like springtime itself, Stonewood's salads are bright, fresh and easy to enjoy—so why not try one on your next dinner out?
There's nothing quite like that first, refreshing crunch—or flavors that play together in traditional (or not-so-traditional) pairings! Read on as we profile a few of our Stonewood salad superstars, and share ideas for crafting your own colorful creations right at home.
Steak Salad
Who says salad can't be satisfying? Our Steak Salad defies this myth in delicious fashion, fueling you up with tender oak-grilled medallions and fresh mixed greens (each packed with protein that is sure to add some power to your meal). We complete the experience with cucumber slices, grape tomatoes, roasted red peppers, bleu cheese crumbles and blackened walnuts for a delightful crunch—all tossed together with a raspberry balsamic vinaigrette, it's a flavorful experience you're sure to enjoy.
Asian Chicken Salad
Another protein-rich pick, our Asian Chicken salad offers a refreshing medley of flavors and textures for a meal you can't miss out on. We start with oak-grilled, ginger lime marinated chicken breast served with crispy wontons, chilled rice noodles, fresh mixed greens and a housemade dressing made with sesame and ginger, two superstars of Asian cuisine. Finished with an Asian slaw, this salad sends you on an international culinary adventure with every bite.
Lobster Cobb Salad
A colorful pick, our Lobster Cobb Salad is packed with nutritious mix-ins that make every bite better—but of course, seafood is the star of the show! We've paired tender Maine lobster meat with fresh mixed greens, corn off the cob, sliced radishes, avocado, cucumbers, grape tomatoes and crispy bacon bits to complement the cool, mild lobster flavor. Capped off with housemade green goddess dressing, the Lobster Cobb's medley of textures—from tender lobster to crunchy cucumbers and bacon bits—works in perfect harmony to create an exciting experience.
Stonewood Salad
Our classic Stonewood Salad is a go-to for good reason. A colorful, filling base of fresh mixed greens, crispy bacon, bleu cheese crumbles, grape tomatoes, dried cranberries, red onions, blackened walnuts and croutons, all tossed a tangy bleu cheese vinaigrette, can stand strong on its own or serve as the perfect backdrop to your protein pick of choice—chicken, shrimp, steak or salmon, we've got you covered!
For savory salads at home…
Salad is a delicious option while dining out—and an easy one to enjoy while relaxing or entertaining at home, too! Here are a few tips for crafting the perfect salad, every time…
Bring balance to your salad. The great thing about salads is that you can use them to bring together a wide variety of textures and flavors, so opt for combos that bring out the best in each other! For example, tangy, acidic mix-ins and dressings will pair well with fats such as avocado or salmon. The same goes for texture—a little crunch goes a long way, especially when it comes to livening up your traditional leafy greens.
Use a bigger bowl than you think you need! When it comes to tossing, larger container lets you distribute your dressing and mix-ins with ease… without greens and veggies flying all over the place!
Preparing salad ahead of time for a party, or want to whip one up for tomorrow's lunch? For pre-prepared salads, keep away the wet ingredients (such as dressing) until you're ready to dig in. This will help keep the salad fresh, crunchy and easy to enjoy.
We know these salads are sure to put a smile on your face, this spring and all year long. Enjoy your favorite on your next visit to Stonewood!