Wed, Apr 17, 2019 at 9:10AM
---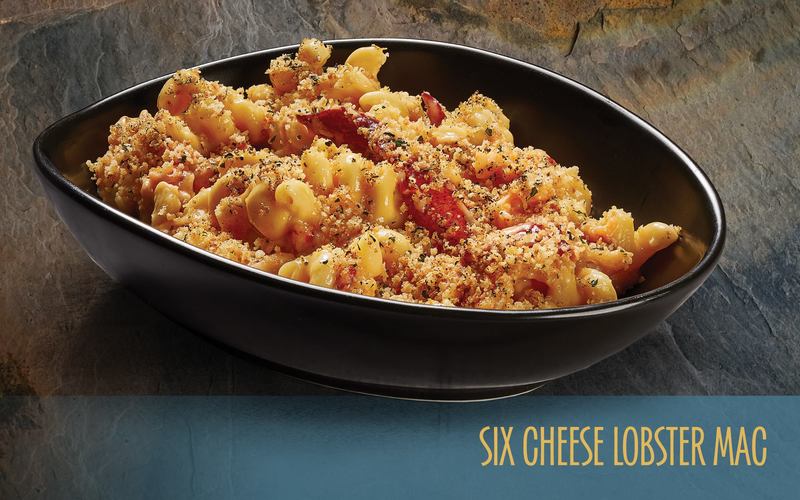 Creamy mac and cheese. Sweet cold-water lobster. When it comes to culinary couples, there's no topping this one-of-a-kind comfort food combo!
New to Stonewood's Seasonal Flavors menu, our Six Cheese Lobster Mac is filled with fresh, familiar flavors to enjoy, all in one hearty bowl. Read on as we get to know this delicious dish, as well as the savory origins of lobster mac! Just grab a spoon and read on.
Six times the flavor
Mac and cheese makes for a delicious treat—but mac and cheese, cheese, cheese, cheese, cheese and cheese? Now that's something truly special!
We've packed six times the flavor into our latest chef-inspired creation, layering cavatappi pasta with a creamy blend of white cheddar, fontina, parmesan, Velveeta, swiss and—for an extra rich touch—cream cheese. The result? A truly decadent comfort food experience. The addition of sweet cold-water lobster adds an extra element of flavorful fun. The tender meat pairs perfectly with the creamy mac-and-cheese base, delivering a dose of coastal charm in every bite. Topped with a crispy parmesan panko crust, this dish has everything you need for a comforting (and exciting!) dinner out.
Lobster mac in the making
What makes lobster mac such a delicious pairing? We know the flavor can't be beat—mac and cheese provides the perfect, creamy backdrop for a number of mix-ins, and there's something about the mild, tender texture of lobster that makes it a natural choice!
In recent years, lobster mac has grown in popularity—especially (but perhaps not surprisingly) in New England, where lobster reigns supreme. Google searches for "lobster mac and cheese" have been steadily increasing since about 2010, reaching an all-time high at the end of last year. In fact, December of every year sees a spike in searches for the creamy dish—suggesting that lobster mac has earned its spot among the great comfort foods we crave on cold winter days and holiday gatherings!
In addition to the rise of social media, which has no doubt helped spread the word (and delicious snaps) of lobster mac, the dish might have regional lobster numbers to thank for its popularity. In 2010, for example, Maine saw its largest-ever lobster haul at 93 million pounds. Having more than enough lobster on hand likely played a role in chefs cooking up new and exciting ways to use the meat.
Whatever the reason may be, we're glad lobster mac is here—it's a delicious pick for those who crave comfort food, a bit of New England flavor, or just a fresh spin on their favorite pasta dish!
For lobster mac magic at home…
Want to enjoy lobster mac at home? Here are a few delicious tips for nailing down the dish…
Start with fresh ingredients. From the lobster to the cheese, it's hard to go wrong with lux, gourmet flavors when trying out a new dish!
Slow and steady wins the race. Most stovetop mac recipes call for warming up butter, milk, and flour (for French-minded foodies, a Béchamel sauce). While you may be tempted to speed up the process with a higher heat, a slow, steady approach is truly the best way to go—you won't burn your milk, and you will be able to enjoy a smoother, ooey-gooey cheese experience.
For a creamy, cheesy treat, be sure to try this latest addition to our Seasonal Flavors menu! We can't wait to see you soon.