Mon, Apr 08, 2019 at 9:10AM
---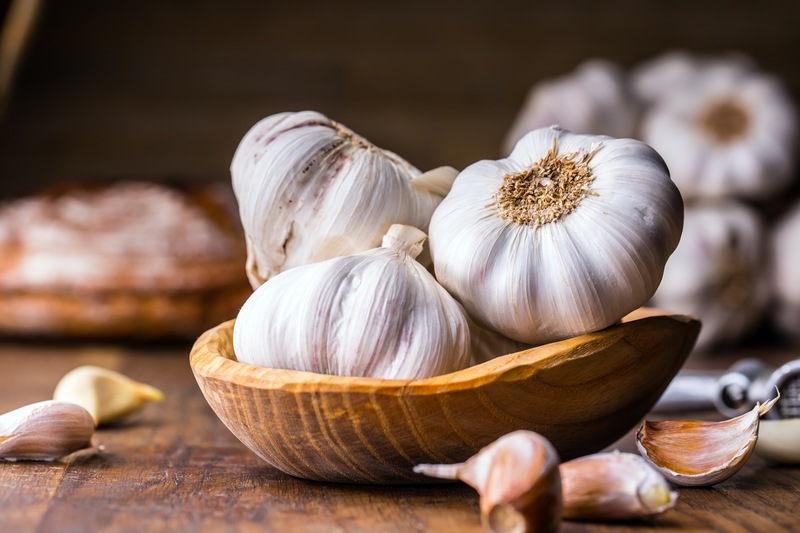 Spring has finally sprung—and this season, nothing complements savory creations quite like the pantry powerhouse of garlic.
Garlic's warm, aromatic kick complements the sunshine and color that's blooming all around you. Whether you're wondering what to order on your next dinner out, or searching for the perfect recipe to serve at your al fresco get-together, garlic has you covered—and in honor of National Garlic Month this April, we're exploring the ins and outs of this must-have staple. Dig in and read on!
A flavorful history
We, humans, have loved garlic for quite a while—but even die-hard foodies may be surprised to learn about garlic's origins! Even though garlic is strongly associated with Italian cuisine (where it undoubtedly thrives), the plant is actually native to Asia! From its home in Central and West Asia, it traveled to attract many fans—eastward, it found culinary centers such as that of China, where garlic still flourishes today in flavorful chicken and veggie dishes. Westward, it reached regions such as Ancient Egypt and the Mediterranean. Preserved cloves have been found in Egyptian tombs and Ancient Greek temples, and the plant is believed to have helped feed workers as they built the pyramids.
When it comes to garlic, even a little bit goes a long way in terms of flavor—this fact, plus the low cost and high yields of growing garlic, made the ingredient a must-have for the masses. It may have been seen as a lower-status staple, but perhaps that is why garlic has grown to be the culinary powerhouse it's regarded as today! Because garlic was so ubiquitous among early civilizations, more and more people were able to use it, passing down recipes (and a penchant for garlic's flavorful heat) from generation to generation.
Garlicky goodness
Throughout the years, garlic gained fame as a flavorful addition to many dishes—but it's more than just a kitchen go-to. Ancient cultures noted garlic's medicinal value, and modern-day studies suggest they were right—some have shown that garlic, by way of diet and supplements, can help people avoid the common cold, for example. And of course, garlic's protective powers were written about in Bram Stoker's Dracula, with characters trying to ward off the classic monster with garlic cloves. While that might be a tough one to prove, garlic's nutritional value speaks for itself—in each one-ounce serving, you will find 23 percent of your daily recommended manganese, as well as impressive amounts of vitamins B6 and C.
Use garlic like a pro
Wondering how to use garlic at home? A few hacks will help make the process even easier…
Crush your cloves in a snap. Use the flat part of your knife's blade to smash the garlic. The peels will come off pretty easily after that.
For a fun, effective way to peel after you've crushed your cloves, toss them into a jar and shake away! The movement will help the cloves shimmy out of their shells, so that you are able to chop them or toss them into your dish.
Decide how garlicky you want your meal to be, and then prepare your cloves accordingly. Crave a strong kick of your favorite flavor? Mince your garlic so that more of the enzyme alliinase is released—this is what gives garlic its classic aroma, and it's released when garlic is chopped up (so you won't be able to get much garlic smell out of a bulb at the grocery store). For a milder flavor, you can toss cloves into a meal as it cooks, such as rice, or chop them up into medium-sized pieces.
Looking for inspiration?
For inspiration for incorporating garlic into your next meal, visit us at Stonewood! Several of our favorite dishes feature garlic as a star player…
Bruschetta, an Italian classic. True to Mediterranean tradition, we pair a medley of basil, garlic, aged parmesan and vine-ripe tomatoes with garlic bread for a flavorful first course or shareable snack.
Roasted Garlic Whipped Potatoes, a fresh, airy twist on your favorite dinnertime side.
Tuna Steak, an oak-grilled delight that's all about flavor. Here, garlic comes with a chili kick that adds a touch of heat to the ahi experience.
Gotta have garlic with your next meal? Opt for one of our delicious Stonewood staples, or whip up a recipe of your own! This April and all year long, it's one ingredient we just can't do without.