Thu, May 02, 2019 at 9:45AM
---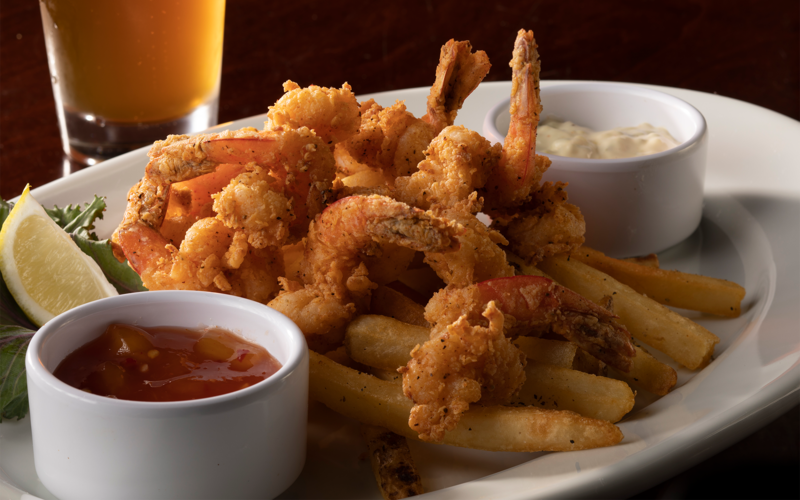 Perfect as a solo snack, or as an integral part of any surf-and-turf medley, shrimp is the seafood staple we just can't enough of!
In honor of National Shrimp Day on May 10th, we're celebrating shrimp the best way we know how—with some of our favorite Stonewood dishes! Read on to find your new favorite, as well as a few fun ways to enjoy National Shrimp Day at home.
Stonewood's shrimp picks
Craving a shrimp fix? Here are a few flavorful options to try…
Buffalo Shrimp, a seafood spin on a classic app. Served with crumbled bleu cheese, mild wing sauce and a bleu cheese aioli drizzle, this simple dish is rich in flavor!
Southern Fried Shrimp Platter. Seafood meets Southern comfort in this delicious dish. Crispy, jumbo white shrimp pair perfectly with housemade tartar & pineapple-chili sauce for a flavorful fusion you're sure to savor.
Shrimp and Scallops. Can't decide between two favorites? Enjoy them both! Our Shrimp and Scallops dish is oak-grilled to perfection, served alongside poblano rice and a corn-and-tomato sauté for a satisfying dinner must-do.
Seafood Cavatappi, a creamy pasta treat that combines tender sautéed shrimp, bay scallops and veggie mix-ins with a decadent caper beurre blanc.
Shrimp your way! You can add our delectable shrimp to your steak for a surf-and-turf treat, or mix them into your Stonewood Salad for a delicious dish that's tailor-made to your taste.
Go shrimping
Florida is known for its beautiful shorelines—but our coasts don't just look good. Just below the surface, the waters are filled with shrimp to catch as long as you know where to look! Shrimping is a popular activity to enjoy, and you don't need much more than a net and some shrimping savvy to try it out (and maybe even bring home dinner). Check with the FWC to see when and where you are able to go shrimping this summer.
Throw a backyard boil party…
Inspired by the coastal charm of the Carolinas' Low Country, a backyard boil is the perfect way to cook up delicious shrimp, lobster and other treats for friends and family.
… or "shrimp-ify" barbecue fun
You can even integrate shrimp into your barbecue routine! Try out grilled shrimp at home and enjoy it on a skewer. It's one of our favorite ways to mix things up—and after all, who doesn't love surf and turf?
They may be called "shrimp," but this supremely snackable seafood staple comes with big flavor in every bite. We hope you enjoy your favorite Stonewood shrimp dish on National Shrimp Day and all year-round!