Wed, Oct 28, 2020 at 1:02PM
---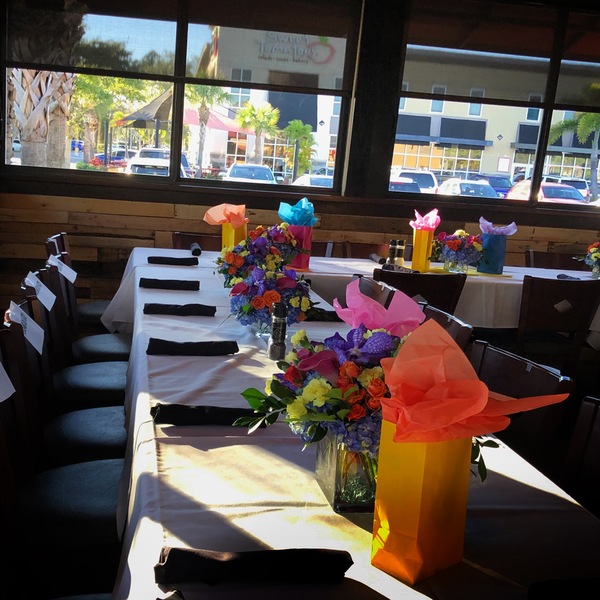 Fall is the season of gathering—and here at Stonewood, our group dining rooms and private party spaces give you the chance to do so in a safe, welcoming environment over your favorite flavors!
Start with the perfect setting
Start your special gathering by deciding where to, well, gather! With so many Stonewood locations across the Sunshine State—coast to coast, north to south—you can choose a beautiful neighborhood that is most convenient for the whole crew.
Fortunately, no matter where you gather, you can count on a pristine Stonewood experience characterized by warm, welcoming décor, picture-perfect table settings and a relaxing, private environment the whole party is sure to appreciate. (Tip: Have a fun décor idea in mind? Let your Stonewood team know, and we'll work to plan ahead and add your one-of-a-kind style to your space!)
Dig in with flexible menu options
From steaks to seafood and abundant options for veggie lovers, Stonewood is the perfect place to bring together friends and family members with unique tastes and dietary needs! Be sure to let us know your needs and preferences, and we'll work to craft a delicious, crowd-pleasing menu that works for all. The best part? No prep or cleanup, so you can fully enjoy your company!
Enjoy a warm welcome and stellar service
The key to a warm, merry gathering? Friendly people! You take care of the company, and we'll take care of providing the stellar service you know and love from Stonewood.
Remember festive favors…
Party favors help your guests remember your meal together long after it's over! A few fun options include…
- Mini floral arrangements
- Polaroid or disposable cameras set up around the table for capturing fun, candid moments
- Custom decks of cards
- Stonewood gift cards (to keep the flavorful fun going!)
… and virtual guests, too!
If you have a friend or family member that can't make this special gathering, why not invite them virtually? Bring along a phone or table to share in the fun as you dig in.
We hope that these ideas help you plan the perfect birthday party, baby shower, team lunch or just-because celebration! Contact your local Stonewood today to get started.