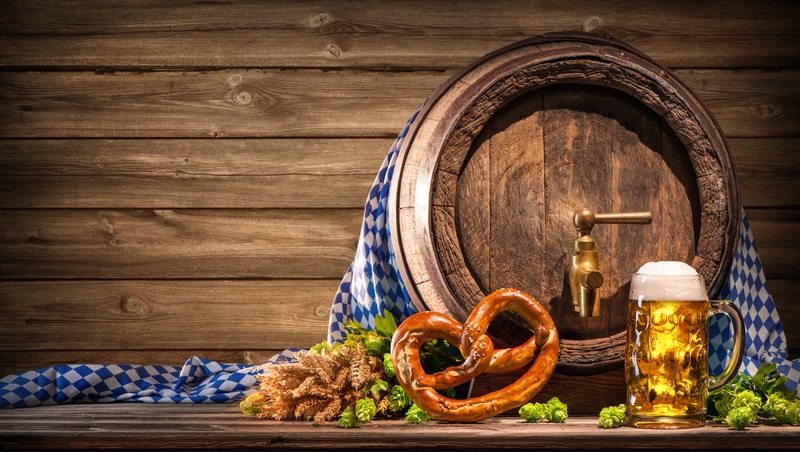 Beer, Bavarian charm and cultural thrills await at Oktoberfest, the beloved fall-time festival. Will you be there?
Since 1810, the Oktoberfest tradition has been synonymous with delicious drinks, hearty dishes, beautiful cultural flourishes and, of course, a pervasive spirit of fun and revelry.
It's the kind of festival that attracts locals and visitors from all over the world—so whether you're planning your itinerary, or simply crave a virtual tour of this one-of-a-kind experience, it's a topic worth digging into! Read on as we explore this exciting event (rolling into Munich on September 22nd) as well as a few of our favorite ways to enjoy the fun, both abroad and right here at home. Take a look.
A cheery tradition
We've come to associate the annual Oktoberfest with fun and good spirits—and, as it turns out, the very first "Oktoberfest" was not much different! Though it wasn't an officially named festival at the time, Oktoberfest began with the marriage of Kronprinz Ludwig and Princess Therese of Saxe-Hildburghausen, a happy occasion to which all of Munich was invited to celebrate. And celebrate, they did—horse races and merriment ensued, not too far off from the traditions of revelry we see today.
The wedding celebration could have just been another party lost in history—had Munich not decided to repeat the fun the next year, and in the years after that! The gathering was so widely enjoyed that they opted to host the festivities in every peaceful year that followed.
Oktoberfest today
More than 200 years after that very first Oktoberfest, what's changed? Well, everything—and, at the same time, not much at all.
Modern travel technology, and word of mouth made breezy by way of the internet, allows people to learn about and experience the thrill of Oktoberfest with greater ease than ever before. In 2017 alone, more than 6 million people attended the event! But through it all, much of the same traditions enjoyed at earlier Oktoberfests are enjoyed today.
For one, crowds still gather at the same open meadow, Theresienwiese, or "Therese's Fields", named after the princess who famously got married here and started the fall-time tradition.
True to the festival's casual, open-air roots, the fun here happens in tents, small and large. One of the big ones, the Pschorr-Bräurosl, has been run by the Heide family for a whopping seven generations and features a real Bavarian yodeler! Another notable tent is the Schottenhamel, from where all the Oktoberfest fun begins. It is here that the Munich mayor will give the first keg a tap and yell out "O'zapft is!" signaling a successful tapping. Once this is done, all the tents can start serving some of that famous Oktoberfest beer, delicious, refreshing lagers that can be found throughout the event.
Then, of course, there's the music—lively, bouncy Bavarian folk songs (naturally featuring lots of accordions) that you can't help but get up and dance to.
The garb
Oktoberfest outfits characterize the experience: Callbacks to the traditional Bavarian garb of yore can be seen throughout the Theresienwiese—and for a majority of the attendees, dressing up is all part of the fun!
For male attendees, you can't go wrong with lederhosen, a traditional style of shorts worn with suspenders, and a shirt underneath. Top off the look with a classic hat as well! Women are known for wearing classic dirndl dresses, pinafore-style pieces worn on top of a white blouse.
The lingo
It always helps to learn a bit of the local lingo when traveling, especially when your destination is Oktoberfest! You will want to know how to say such key words as "hendl," or roast chicken (an Oktoberfest staple); "lebkuchenherz," the beautifully-decorated gingerbread hearts you'll see throughout the festival; "bier" and "bierzelt," for beer and beer tent respectively; and, of course, "prost," a.k.a. cheers!
Seeing the sights
Don't travel to Bavaria without seeing some of its most breathtaking sights. Beyond the beer tents—which are certainly beloved destinations of their own—the state of Bavaria is home to beautiful castles, such as Hohenschwangau Castle nestled among rich, foliage-lined hills, as well as the gorgeous, idyllic fields of Englischer Garten and the picturesque facades of Romantic Road, where traditionally designed buildings might just make you feel like you've stepped into a dreamy, fairytale past…
Celebrating at home?
Oktoberfest in Munich is a sight to behold… but even if you don't make the trip, there are still plenty of ways to enjoy the spirit of the season right here at home.
For starters, there are ample Oktoberfest-inspired gatherings right here in the Sunshine State! Orlando has one dubbed "Blocktoberfest," an al fresco gathering on Wall Street where people can get together and partake in the festival spirit. Oktoberfest Tampa, held at the city's gorgeous Curtis Hixon Waterfront Park, is another choice way to enjoy the great weather and delicious refreshments. Of course, we can't forget about "Biketoberfest" held in Daytona Beach! The beloved event is an exciting, motorcyclin' spin on the traditional gathering, featuring live music and much more.
You can also hold your own Oktoberfest gathering—invite friends and family to don their best dirndl and lederhosen, then come over and enjoy delicious traditional fare!
Or simplify your fun by hosting a get-together right here at Stonewood, where the Oktoberfest spirit of fun and delicious food and drink is something we hold dear, all year-round. Plus, with plenty of warm pretzel bread and cold beer, our menu's got something for every Oktoberfest craving you have.
We hope you've enjoyed this virtual tour! Whether you're enjoying the Oktoberfest fun abroad or closer to home, it's sure to be an exciting event.