Tue, Aug 20, 2019 at 4:57PM
---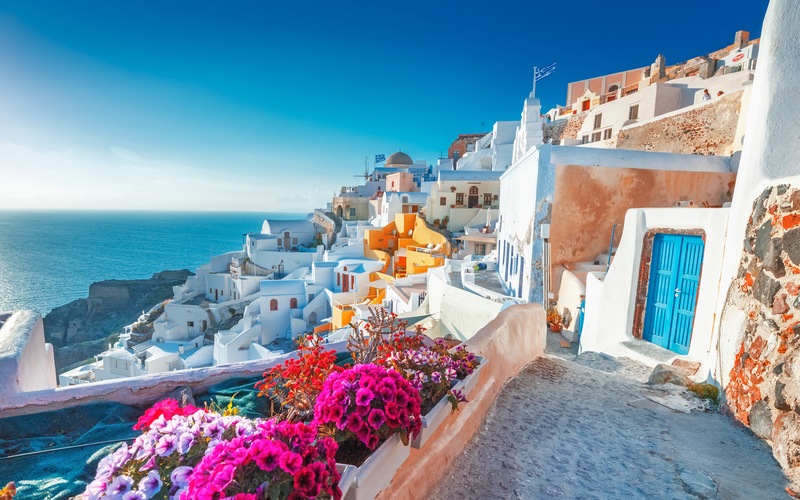 From its sparkling blue waters to its charming cliffside abodes—and, of course, all that delicious food—Greece is a dream destination for many a world traveler and foodie alike. But did you know that you can enjoy Greek flavors closer to home, too?
As we dream about this irresistible summer escape, we're sharing a few delicious ways to enjoy Greek culture and cuisine right here in the Sunshine State. Take a look to learn more.
Study your Greek
Before digging into delicious Mediterranean flavors, it's time to practice your Greek! Not the language, of course, but your Greek culinary knowledge. For example, you probably already know that olive oil is one of the major cultural and culinary exports of Greece (the country is still one of the world's top producers, in fact)—but did you know that the Greeks may lay claim to one of the earliest cookbooks, too? In the 5th century BC, a cook named Mithaecus—with a passion for gastronomy—wrote what is believed to be an early cookbook while facilitating culinary exchange between Sicily and Greece. We don't have that cookbook today, but we do know that the book's sole surviving recipe was for a seafood dish, perhaps not surprisingly!
Enjoy a glass of wine
Another not-so-surprising truth about Greek cuisine is that it pairs perfectly with wine! The one-of-a-kind climate of the Mediterranean has long lent itself to world-class varietals—so for your Greek-inspired dinner at Stonewood, be sure to enjoy a glass from this region of the world, such as Greek's next-door neighbor, Italy. Whichever wine you choose, be sure to toast with a classic "yia-mas," "to good health" in Greek!
Start with a Greek seafood staple
In addition to its tradition of wine and olive oil, Greek culture also delivered a beloved seafood staple: calamari, or, as the Greeks called it, kalamari, which was derived from the word for "reed" or "pen," perhaps due to the infamous ink of a squid!
It's no wonder that this squid dish thrived in Greece, a paradise surrounded by water and all sorts of seafood below. Here at Stonewood, our Calamari is easy to enjoy with friends and family. We prepare ours with hand-breaded, flash-fried, tender calamari and jalapeno rings for an added kick. Much like the Greeks, we love lemons, and so pair our calamari with a housemade lemon aioli, grilled half-lemon and a pineapple chili sauce.
Dig into a delicious steak, topped off with Mediterranean flair
As far as entrees go, Greek cuisine famously includes lots of grilled meat—so you can't go wrong by enjoying a delicious steak on your Greek night out! Top your oak-grilled steak off with a complement of our Mediterranean Topping, featuring regional staples like baby spinach, artichoke hearts, sundried tomatoes, roasted garlic, fresh dill, goat cheese and more for an authentic (and appetizing) experience.
Discover a slice of Greek life in the Sunshine State
Looking to pair your Greek dinner with a day trip? You're in luck. The Sunshine State is actually home to the city with the highest percentage of Greek Americans anywhere in the United States! We're talking about Tarpon Springs, a West Coast town whose gorgeous Gulf views no doubt remind visitors (and Greek families themselves), from time to time, of a pristine Mediterranean expanse. Greek immigrants built a community here, and you can see the cultural influence by way of picturesque storefronts, restaurants and even sponge diving relics that point visitors toward the tradition of Greek divers who made Tarpon Springs their home more than a century ago.
Thousands of years ago, the Greeks made a lasting impact on global cuisine and culture—an impact that doesn't seem to be going anywhere anytime soon! Enjoy the fruits of their labor (literally!) with a delicious dinner out at Stonewood, or a trip to a slice of Florida's Greek paradise.