Fri, Jan 18, 2019 at 4:00PM
---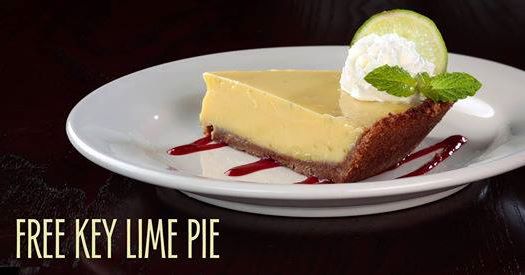 Sweet, simple and a true crowd-pleaser, pie is the undisputed king of holiday season gatherings—but on National Pie Day January 23rd, we're reminded that pie truly is a treat worth enjoying all year long.
Feeling hungry? On this sweet holiday, you're invited to enjoy a free slice of our famous House-Made Key Lime Pie with the purchase of any entrée. Check out our Facebook offer to receive this special treat!
As you get ready to dig in, be sure to brush up on your knowledge of this beloved dish with a few fun facts. Just keep reading!
A sweet and savory history
Humans have been enjoying pies (or pie-like dishes) for about as long as history can remember. In Ancient Greece, we know from Aristophanes' plays that filled pastries were enjoyed in the kitchen—and then, in Rome, the tradition was expanded upon, with Romans preparing meat in plain pastries to seal the delicious juice inside.
The name "pie" likely stems from "magpie," a black-and-white bird whose coloring might have resembled the multiple, contrasting hues of early meat pies. Another possible explanation is that the bird was known for collecting things for storage, in the same way, that a pie serves as a sort of receptacle for many different ingredients.
Pie throughout history has been enjoyed in both sweet and savory ways—and today, we still enjoy a good savory pie, as evidenced by classics like our Stonewood Chicken Pot Pie!
One of the country's favorite pies, pumpkin pie, was first enjoyed at the second Thanksgiving, according to the American Pie Council. The pumpkin is native to North America, making it a uniquely regional ingredient for this much-loved dish.
Mathematically speaking…
You'd be forgiven for thinking that the mathematical constant of "pi" comes from pie, the dessert. Even though "pi" stems from Latin for the Greek word meaning "circumference," the mathematical unit refers to the ratio of a circle's circumference to its diameter. So both "pi" and "pie," essentially, are all about circles.
Pies are part of the national vernacular
It's hard to escape the influence of pie—it even affects the way we talk! Common phrases like "easy as pie," "cutie pie," "piece of the pie" or "American as apple pie" reflect our shared cultural love of this classic, familiar dish.
Pie by the numbers
The American Pie Council has lots to say about just how much we love our pie! Every year, we spend a cumulative $700 million on grocery store pies (and seven percent of us have tried to pass those store-bought goodies as homemade. Don't worry, we won't tell!), and one in five Americans has eaten an entire pie on their own.
Exploring the "United Pies of America"
Because the country loves pie so much, each state has its own claim to pie fame. Florida's, of course, would be the Key Lime Pie. In 2006, it was officially ruled our state dessert—and true to Florida fashion, it is bright, refreshing and pairs beautifully with our year-round sunshine and warm weather. It also makes use of locally grown Key limes, as opposed to traditional Persian limes which are typically used in cooking. Ours is a simply satisfying celebration of fresh ingredients and classic preparation, featuring a cool, tangy filling served atop a graham cracker crust.
Now that you're an expert in all things pie, enjoy a slice with us here at Stonewood. On National Pie Day and all-year-round, it's the perfect way to sweeten up your meal and put a smile on your face. And isn't that what dining out is all about?