Wed, Sep 18, 2019 at 12:40PM
---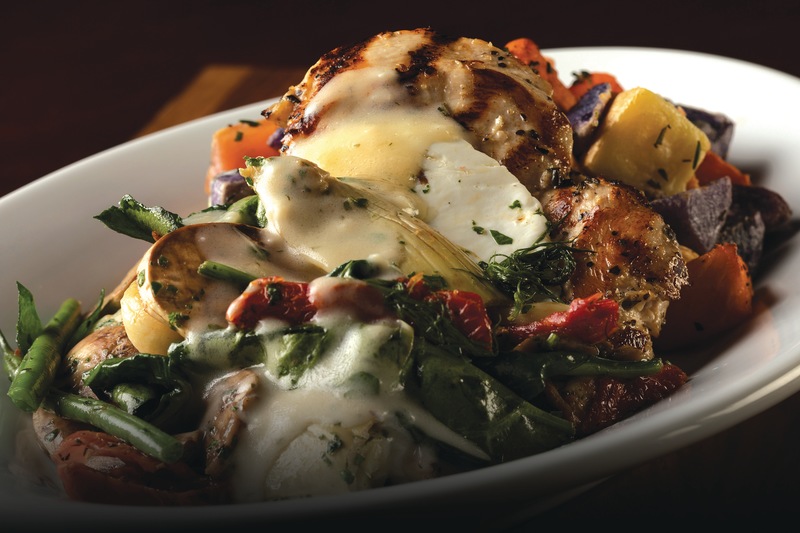 You may not know it by the weather outside, but fall is here! Even if you're still donning shorts and sandals, you can help usher in the season with cozy comfort foods and seasonal staples that deliver fall goodness in every bite, spoon or sip.
Read on as we share a few of our favorite fall flavors to enjoy here at Stonewood!
Heritage Onion Soup
For a true taste of fall, start off your meal with a soothing favorite: our Heritage Onion Soup. Its familiar flavor is sure to prep your palate for the meal ahead, while its warm, creamy texture delivers a dose of hearty goodness you're sure to love.
Short Ribs with Butternut Squash Ravioli
When you think "fall," your mind might jump to the vibrant, versatile pumpkin—but don't rule out its fellow squash! Butternut squash, for example, is a delicious pick for those craving a touch of the season (even though it's easy to enjoy all year long). Savor the sweet, nutty flavor of this delicious squash in our Short Ribs with Butternut Squash Ravioli, a dish that delivers a triple dose of seasonal goodness. Our tender, boneless beef short ribs are hearty and satisfying; our chardonnay cream sauce is smooth and comforting; and, of course, the star of the show, the butternut squash ravioli, is sure to deliver the harvest-style flavors you've been searching for.
Chicken Pot Pie
Another comfort food go-to, our Chicken Pot Pie feels especially appropriate during the fall season. Even if it's a hot, sunny 85 degrees outside, our tender white chicken and supreme sauce will help you feel as though you've just come indoors after a long day of leaf crunching or pumpkin carving! One thing is for sure: Wherever in the Sunshine State you find yourself this season, our Chicken Pot Pie will taste like home.
Fire Roasted Vegetables with Quinoa & Farro
During the summertime, cool, refreshing salads might be your go-to means of getting your veggies—but if the switch of season has you craving something a little warmer, try our Fire Roasted Vegetables with Quinoa & Farro! This dish features a colorful combination of field-fresh eggplant, yellow squash, zucchini, marinated asparagus, red peppers, red beet puree and a five-grain medley to bring it all together. Since they're fire roasted, these veggies are far from your everyday produce—instead, they deliver a powerfully warm and hearty experience you're sure to love.
Prime Rib
If fall has you craving comfort food and a return to tradition, you can't go wrong with a classic Prime Rib or Prime Rib French Dip! Both feature tender, slow-roasted beef that's sure to satisfy your hankering for a warm, hearty meal.
Chocolate Bread Pudding
Dreaming about the perfect fall menu? Don't forget about dessert! Our Chocolate Bread Pudding features a warm, decadent bourbon sauce that will soothe your soul as you dig in and enjoy.
Maple Old Fashioned
Imbue your cocktail with a sweet, seasonal touch! Our Maple Old Fashioned offers exactly that, served up with Old Forester Bourbon, Jack Rudy bitters, orange, cherry and, of course, maple syrup for a rich, velvety finish. Here in the Sunshine State, we may not see sweeping color changes in our trees, but the addition of maple syrup in this beloved cocktail reminds you that the beauty of a tree is not just about what you can see, but about what you can taste, too.
By indulging in these must-try picks, each heaping with autumnal allure, you'll be feeling like fall in no time. Come out and enjoy a meal soon!