Thu, Jul 25, 2019 at 10:25PM
---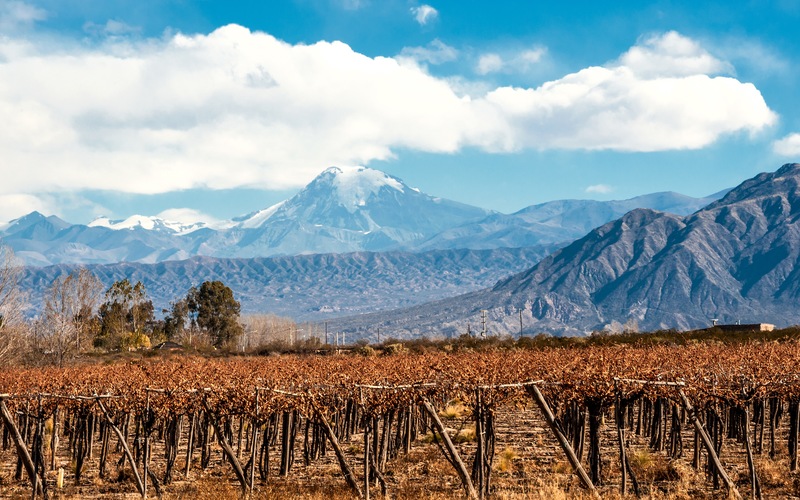 In the east, penguins crowd around cool, pebbly beaches—in the west, wine and culture thrive in the shadow of the Andes. Argentina's enchanting landscape offers a one-of-a-kind adventure for sightseers and foodies alike, so why not explore it for yourself?
Take a look below as we embark upon a virtual tour of Argentina and its flavorful flair (and stick around to see how you can enjoy its trademark cuisine right here at Stonewood!).
Get to know world-class wine
For a world-class glass of wine—especially of fruity, flavorful Malbec—aficionados know that Argentina is the place to be. Specifically Mendoza, where Argentina's wine country truly shines in one of the world's highest-altitude wine regions. Here, a unique climate lends itself to truly special grapes. In the shadow of the Andes, an arid climate persists, where growth is aided by the flow of glacier-fed rivers.
Temperatures are rarely too hot or too cold—even in the middle of winter, which starts in June in the southern hemisphere, snow is rare and temperatures hover around the 50s and 60s. The grapes themselves, grown against the breathtaking Andes backdrop, create wine that is moderately rich in tannins yet not too bitter. Malbec lovers enjoy this balancing act, and praise the wine for its fruity flavor (and notes of cocoa, too!). Here at Stonewood, you can enjoy Argentinian Mendoza Malbec from both Padrillos and Piattelli Reserve, which can be enjoyed during our Happy Hour.
A new kind of beach escape
As you explore the Argentinian expanse (filled with delicious food and drink options galore), remember to take some time out to explore its natural landscape. In addition to touring the lush foothills of the Andes, and the wineries that thrive here, you can also make the trip to remote destinations such as Punta Tombo, a breezy beach destination known not for sunbathers but for waddling droves of Magellanic penguins; or the Islas Malvinas, a quiet, rugged archipelago where stunning water views and seaside cliffs form a one-of-a-kind experience. The islands are about as close as most travelers will ever get to Antarctica itself, a place to soak in a truly natural, unspoiled atmosphere.
Both Punta Tombo and the Islas Malvinas are too far away for a mere side trip, but make for excellent adventures for a longer-term Argentinian adventure!
Argentina's culinary footprint
Argentina was heavily influenced by the cuisine of European countries like Spain and Italy—and it, in turn, left a delicious impact on the rest of the world.
When European emigrants came to call Argentina "home," they brought culinary staples from their respective countries. One thing that Argentina inherited from Italy, for example, was a love of spaghetti and other pasta; from Spain, the tradition of the siesta (midday relaxation followed by a long, hearty lunch) and a gregarious dining culture.
When it comes to food, Argentina's culinary landscape was also shaped by the physical landscape of the country. In the shadow of Patagonia, grassy swaths of Argentina lent themselves to a thriving cattle culture. From ranches and their at-home kitchens came the tradition of asado, which refers to both grilled meat (most commonly beef), as well as the social act of preparing it in something akin to a backyard barbecue.
Perhaps because of the abundance of grilled meat, Argentina is also responsible for one of steak's most flavorful complements, chimichurri. This green sauce's name comes from the Basque word tximitxurri, or a mixture of things in no specific order. There's a delicious haphazardness to preparing chimichurri, since you blend together the key ingredients—parsley, garlic, olive oil, oregano and red wine vinegar—to your preferred flavor and color, a vibrant green.
Want to save some time and guess work? Leave the chimichurri to us! It's served up alongside tender oak-grilled marinated steak (or asado) and poblano rice as part of our Seasonal Flavors Menu. Enjoy your Chimichurri Steak alongside a glass of Malbec, which is a perfect pair for red meat.
We hope that you've enjoyed this virtual tour! Of course, nothing beats the real thing. So come down to Stonewood, put on your planning cap, and sketch out the itinerary for your Argentinian adventure over our Andes-inspired eats! We look forward to seeing you soon.