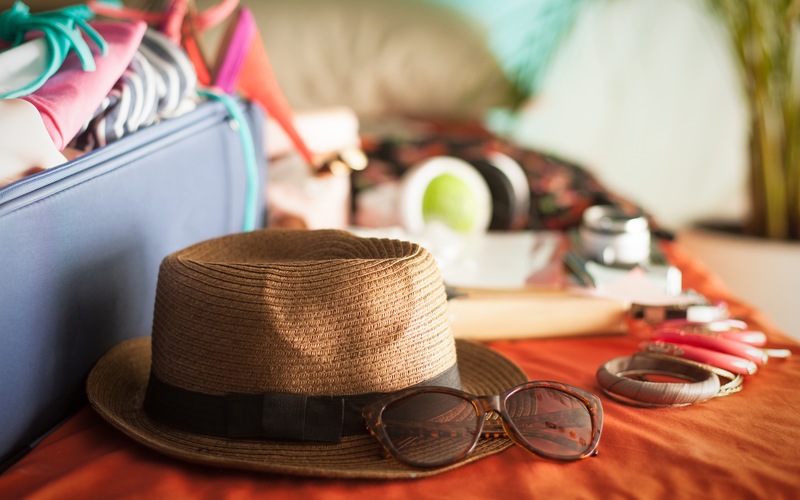 Whether you're swimming, surfing, island-hopping or exploring inland attractions, your Florida travels will take you far and wide this summer.
It's easy to let the day take you along new and unexpected journeys… you just have to dress the part!
Whether you're a Florida native or are visiting for the summer, read on as we share a helpful refresher, our Stonewood's guide to summertime style.
Our must-have gear
If you're visiting from out of state, here are a few of the essentials you might want to slip into your suitcase (or of course, if you're a Sunshine State local, your closet or cupboard!):
- A trusty baseball cap. Sometimes, you'll want to try some more stylish headwear—but for the most part, you'll love having a comfy hat around for those bright, sunny days.
- Sunscreen. While not quite a piece of clothing, sunscreen is something you'll want to wear all the same. It "goes" with any outfit and can help you get more out of long, lazy days outdoors—plus, you can even find sunscreen on a keychain so you're never without coverage.
- A light rain jacket. Florida's cold weather rarely overlaps with rain and thunderstorms, so you won't need anything particularly heavy. In fact, it's even better if you can find a rain poncho that can roll up into a bag or ball when it's not in use—you can leave it in a backpack or the back of your car, so that wherever you roam, you know you're covered.
- A pair of rain boots. You already know to bring your favorite sandals to Florida… but of course, having a pair of rain boots on hand never hurts. The state is famous for its flip flop-friendly weather, but during stretches of rain, you'll appreciate having a sturdier, less slippery option available.
Style for every Florida adventure
Now that we've covered a few of the essentials, here are some of our favorite ways to dress up for the common activities you might have on your calendar.
For exploring the islands…
While Florida's mainland is, itself, a gorgeous getaway, it is also known for beautiful islands—spots like Amelia Island, which boast Southern charm, or back-to-nature marine getaways like the mangrove forests of the Ten Thousand Islands. And then, of course, there's the famous Florida Keys! No matter what island-hopping adventure you plan to enjoy, you can't go wrong with some classic island flair: floral tropical sun dresses, or tees (which can be buttoned up come dinnertime for a more formal look), for example, or linen pants that are perfect for coverage while still being breezy and comfortable.
You won't look out of place donning an oversized straw hat or similar accessory while enjoying the island atmosphere—it's all part of the fun! As for shoes, you'll want something with a good grip, since your island-hopping might take you from boat deck to sand to boardwalk and everywhere in between.
For enjoying the surf and sand…
Spots like New Smyrna Beach on Florida's east coast are perfect for choice surfing, or simply lounging around in the sand. Want to do a bit of both? For days spent at the beach and in the water, simplicity is key. Slip-on shoes and a beach coverup are perfect for letting you get in and out of the water with ease.
For family barbecues…
It wouldn't be a summer in Florida without a family barbecue! Casual is key here—think simple t-shirts and shorts. Be sure to opt for something colorful with a print, though. Even the best of us can run into stains when enjoying a deliciously juicy rack of ribs, so save your white "beach best" linens for another day and dig in, worry-free.
Just remember—if it's a poolside get together, be sure to bring along a swimsuit for when you're ready to jump in and cool off.
For rainy day destinations…
Rain doesn't have to put a "damper" on your day, even here in the Sunshine State. When it seems like those clouds are there to stay all afternoon, venture off to a museum or day of shopping! Dress in light layers (such as a breathable sweater you can tie around your waist later), since the rain might cool you down. Even if you're not expecting rain, it never hurts to toss a dry t-shirt in the trunk of your car for days when a sudden downpour catches you off guard.
For a fun dinner out…
Dining out with the family? Here at Stonewood, our style is simple. Come comfortable in jeans and your favorite top to catch a game or simply kick back with friends… or feel free to jazz things up with a jacket, or dress, when celebrating a special family get together. Whatever your wardrobe, it's sure to serve as the perfect look for a night out of fun, food and lots of laughs that are sure to echo all summer long.
We hope that today's style guide has helped you find your perfect style for exploring Florida this summer! When you blend comfort and style with a pinch of Florida flair, you've got a look that cannot be beat.