Wed, May 16, 2018 at 2:30PM
---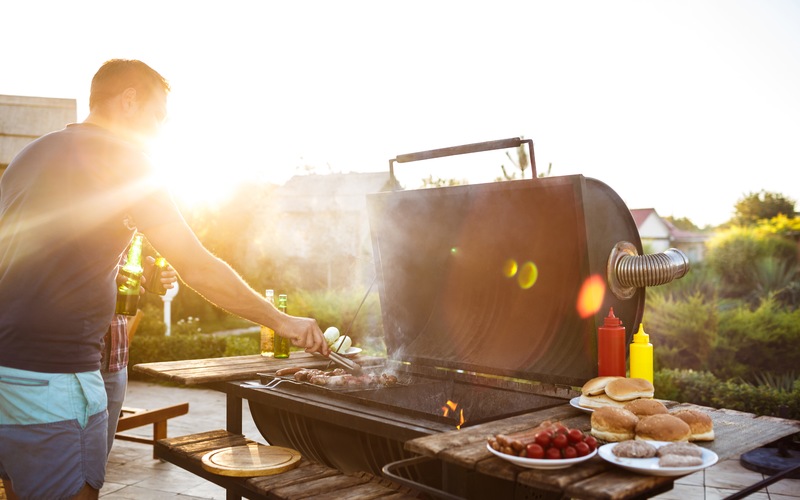 A return to summer means a return to our favorite seasonal pastime: firing up the grill for some delicious family barbecuing.
In honor of National Barbecue Month this May, we're taking that passion to the next level. Read on as we share the ins and outs of barbecuing… as well as a few of our favorite, hearty grilled dishes. Take a look.
Behind the barbecue
What's with our love for barbecue? The answer seems easy enough, of course—it tastes delicious, and brings us together like nothing else!
As it turns out, we have been barbecuing for quite a while. The term itself comes from "barbacoa," the wood cooking structure indigenous Caribbean people used to smoke food. And our love for hot, smoky flavors might have a sentimental factor, too—it can't help but remind us of those old-fashioned summer camp days, and nights spend 'round the campfire where all you needed was some good wood, meat and company to make for a splendidly smoky meal.
Now, whether we call it "barbecue" or "BBQ," the cooking style—which inspired in-kitchen methods, like wood grilling, too—is a beloved way to cook.
Wondering how to master it yourself? Here are some tips…
For smoky flavor: It's not a barbecue without some heat! In addition to the seasoning and marinades, be sure to remember the flavor that comes from the wood you're heating up with. Every wood will offer a different kind of flavor, and many work well with specific sorts of meat. One of the most universally tasty woods to grill with, of course, is oak. It lends itself to poultry, fish, beef, you name it, and provides a smoky flavor that's present without being overwhelming. It's Stonewood's preferred method, too!
For perfect sear marks: You know what they say, "we eat with our eyes!" So when you're grilling at home, craft a picture-perfect plate every time with the help of sear marks—the classic criss-cross pattern that's a sign of a perfectly grilled piece of meat. You can achieve this by turning your meat 45 degrees, but only when it's been sufficiently seared the first time around (you can tell that it is by peeking, or simply trying to move the meat—if it doesn't move easily off the grill grates, it could still use some more time).
For a cookout that's sure to please: Throwing the perfect barbecue or cookout is an easy effort you don't need to put much thought into—somehow, a text like "barbecue at my house!" gathers around family and friends better than anything else. Invite everyone to bring a side dish of their choosing (potato wedges, mac n' cheese or coleslaw are popular options), or even a sweet homemade dessert. Hang up string lights and lay out some towels, if you've got a pool, to get people jumping in and work up a festive atmosphere.
Our favorite grilled treats
Want the smoky, grilled flavor without firing up the grill? We'll do it for you! Head down to Stonewood to enjoy one of our flavorful oak-grilled entrees, like our Oak Grilled Shrimp or Tuscan Chicken. Each packs just the right amount of smokiness to entice the palate and add some excitement to the dish.
The perfect barbecue is a combination of the right flavors, the right meat and, most importantly, the right company! We hope you find yours and enjoy a truly satisfying barbecue this summer.