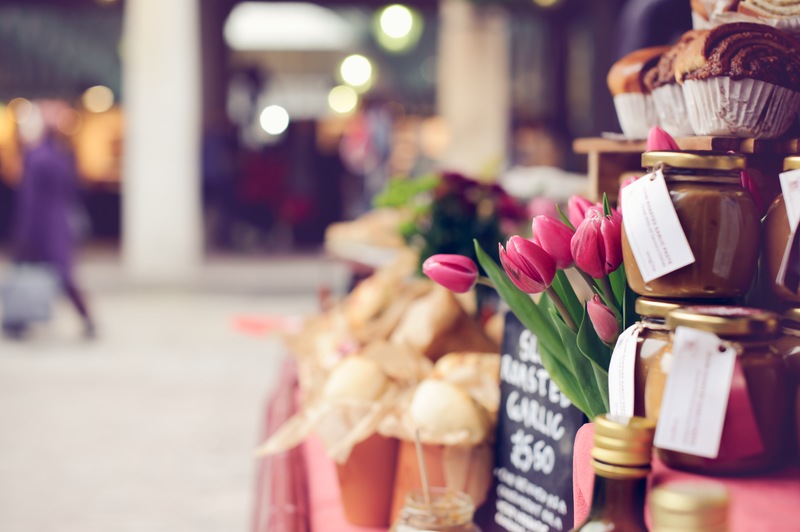 Mild weather. Bright, sunny skies. Colorful produce and delicious handmade goodies as far as the eye can see. It's official—Florida's farmers' market season is in full swing.
Now is the perfect time of year to explore these local hot spots, where friends, families, farmers, and artisans come together to celebrate the delight of fresh, quality goods and shopping al fresco. While many of these markets are open all year-round, the mild weather and abundance of in-season eats means that this is truly the best time of year to get out and enjoy this unique experience. And there's a lot to experience.
Whether you're a local or simply to embark on an in-state getaway, here are a few of our favorite farmers' markets around the state. Just read on to see what makes each so special!
Florida Keys Farmers' Market
We're starting our virtual adventure in the Florida Keys, where a flip-flops-friendly culture and ocean breeze lend themselves to farmers' market fun every week. It's a place where you simply want to spend every minute outside anyway… which is why the Florida Keys Farmers' Market in Islamorada works so well. Between dips in the ocean or leisurely bike rides along the waterfront, treat yourself to the simple pleasure of shopping for fresh produce, seafood, pastries and even local island-inspired art you can't find anywhere else. You can even pick up the colorful veggies and Floribbean flavorings to complement your own catch-of-the-day!
The laid back, feel-good atmosphere comes in by way of the sea breeze—and with every whiff of that familiar, salty air, you're reminded of just how lucky you are to be shopping in paradise in the middle of January.
When to go: Sundays, 10 a.m.-3 p.m.
West Palm Beach GreenMarket
The West Palm Beach GreenMarket is a seasonal treat that rolls in every winter and lingers until mid-spring—so it's perfect for those who flock to Florida as their warm-weather hideaway every year. Located in Downtown West Palm Beach, the GreenMarket is a bustling event. The community comes alive to partake in this beloved tradition, held by the gorgeous waterfront, to snack on cider doughnuts and crepes, or to pick out fresh produce and gourmet cheese to bring home for dinner… to name just a few goodies! More than 90 vendors in total take part in the fun, so there's more than enough to do and see. We say you might even need to come back a second weekend to really get your fill.
After the market, head to the family-friendly activities that abound throughout West Palm Beach. From the market, you can stroll along Clematis Street and grab a bite to eat for brunch or lunch, then be sure to head to nearby Manatee Lagoon, an FPL clean energy center where wild manatees lick to gather due to its warm water. It's truly a sight to see, and you can check it out all season through March 31st!
When to go: Saturdays through April 20th, 9 a.m.-1 p.m.
Sarasota Farmers' Market
Another must-do destination is the Sarasota Farmers' Market, a downtown destination that's built for strolling around on easygoing Saturday mornings. Here you will find fresh produce, flowers to bring home and beautify your space, artisan goodies and even on-site art classes for the kids! The spirit of community abounds at this sunny West-Coast market.
Be sure to pack your flip-flops and sunscreen, because the beach is only minutes away! We recommend heading over to Siesta Key, where its famously soft, white sand provides the perfect backdrop to a day of sandcastles and splashing (or lounging) around.
When to go: Saturdays, 7 a.m.-1 p.m.
Orlando Farmers' Market
This Central Florida market is a must-do destination for visitors and locals alike. The Orlando Farmers' Market takes place at the heart of downtown, right along the picturesque shoreline of Lake Eola. Here, a thriving scene offers you the chance to do a bit of everything. Shop for your fresh produce, browse for arts-and-crafts gifts, dig into a handmade lunch and even bring Fido along for the fun! As you shop, spend time with loved ones and sway to the sound of live music, you realize what truly makes this farmers' market so special. And of course, when you're done shopping, the abundance of Orlando attractions awaits—ride a swan boat on the lake, do some shopping or visit a favorite park to enjoy a seriously fulfilling day.
When to go: Sundays, 10 a.m.-4 p.m.
Ormond Beach Farmers' Market
Looking for a fun way to mix up your week? The Ormond Beach Farmers' Market has your solution! This market takes place every Thursday, giving you the chance to indulge in some al fresco fun, shopping, and delicious food in the middle of your week. Who says you have to wait for Saturday to enjoy the fresh air, anyway?
Held at City Hall Plaza, right by the water, the Ormond Beach Farmers' Market offers a shopping experience with a view. Pick up fresh produce (avocados, grapefruit, guava, and tomatoes are just a few of the deliciously colorful, in-season options to choose from this January) and engage with local vendors who offer everything from honey to soap to handmade gifts, sweet bread and beyond. It's a welcoming, eclectic mix of local flavors all in one beautiful open-air destination. Beyond the market, be sure to make some time to visit local historical sites (such as the Birthplace of Speed park), cruise the Halifax, explore nature or spend time relaxing in the sand!
When to go: Thursdays, 8 a.m.-1 p.m.
Daytona Flea & Farmers Market
Just minutes down the coast you'll find the Daytona Flea & Farmers' Market, a three-day event that's brimming with things to do and see… and, of course, eat!
Browse through fresh citrus, honey, popcorn, and other delicious offerings, as well as gifts you'll want to bring home—from crystals to surf gear and everything in between. You'll never run out of things to explore. What makes this market really special, though, is a lively schedule of events that makes every weekend truly one-of-a-kind. On the first Saturday of every month, for example, you can see beautifully maintained, old-school cars at the Classic Car Cruise-In. On the second Sunday of every month, an Arts & Crafts Show gives you even more locally made, handmade goods to admire.
While you're in the area, take some time to explore! If you're a racing fan, the Daytona International Speedway is right up your alley. You might also want to carve out some time by the shore—this is the "World's Most Famous Beach," after all—or head a bit farther down the south to enjoy some choice surfing action at Ponce Inlet.
When to go: Fridays, Saturdays, Sundays, 9 a.m.-5 p.m.
We hope that today's guide helps inspire a trip to your local (or not-so-local) farmers' market. As you'll soon discover, food is just the beginning of the fun!