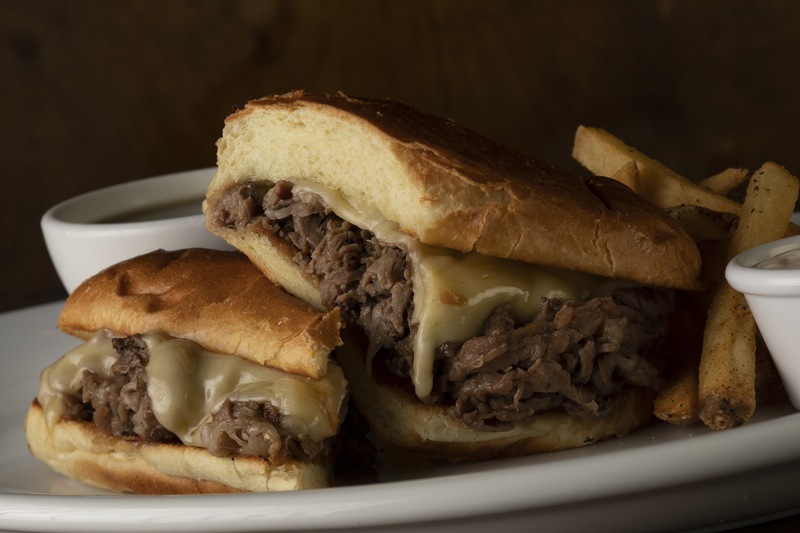 When the day calls for a variety of the best bottled beer to bring home with an entrée from one of the best restaurants in Jacksonville, no one does it better than Stonewood Grill & Tavern. Our mix & match six-pack of bottled beer is just the thing you need, and we have a variety of incredible entrées to choose from to go with it.
Entrées to Enjoy with our Mix & Match Beer
No matter what you're in the mood for, of all Jacksonville restaurants, we have the best variety of entreées to suit your tastes. There's something for every palate at Stonewood Grill & Tavern!
Market Fresh Fish
We offer fresh catch, yellowfin tuna, or Atlantic salmon, and we can prepare your market-fresh fish entrée with herb butter or our special house seasoning. Enjoy it oak-grilled or blackened, and choose two of our delicious sides to accompany your entrée.
Hand-Helds
If you're looking for a savory meal to enjoy that doesn't require a plate, consider one of our famous handheld selections:
Prime Rib French Dip
Our Prime Rib French dip with rosemary au jus is thinly sliced, topped with Swiss cheese, and adorned with horseradish sauce. Enjoy it nestled within a toasted brioche hoagie with a side of French fries.
Chicken or Veggie Quesadilla
Satisfy your palate with oak-grilled chicken breast, onions, corn, salsa, cheeses, and fire-roasted peppers, or substitute the chicken for oak-grilled yellow squash and zucchini.
Two-Hand Chicken Club
Another popular entrée we offer is our Chicken Club with oak-grilled chicken breast, Swiss cheese, onion, tomato, lettuce, pickle, hardwood smoked bacon, and basil avocado mayonnaise.
Oak-Grilled Cheeseburger
This amazing half-pound USDA-certified Angus beef patty sits atop a toasted brioche bun and comes with onion, pickle, cheese, tomato, lettuce, or anything else you want — really! It's served with a side of French fries, and bacon is available, too.
Hand-Cut Steaks
Midwestern beef seasoned with our signature blend is what we serve, and you won't find better anywhere else. Choose from filet mignon, sirloin, ribeye, or prime rib. Our steaks are tender and are available with a season and seared option, as well. Few things pair better with beer than a great steak!
Crafted Bowls
Our bowls combine the best mains with sides all in one beautiful serving:
Southwest Chicken
Enjoy Santa Fe-style chicken breast with poblano rice, pico de gallo, basil avocado aioli, and black bean and corn salsa.
Poke
One of our most popular entrées, our sushi-grade rare tuna poke with watermelon radishes comes with Asian slaw, cucumbers, Sriracha aioli, and more atop a bed of delicious jasmine rice.
Salmon
Our salmon bowl features ginger lime-glazed salmon with jasmine rice, lemon oil, baby kale, edamame, grape tomatoes, scallions, radishes, and cucumbers with basil avocado aioli.
Chef's Selections
Add a Caesar or side salad to any of our Chef's Selections menu items to go along with your six-pack of mixed beer:
From the Sea
Stonewood Grill & Tavern proudly offers a variety of incredible fish and seafood entrées, including our ginger lime tuna steak, cedar plank roasted salmon, shrimp and scallops, and our Southern-fried shrimp.
Chicken
If you're in the mood for chicken, we have tasty options that include our famous chicken pot pie, blackened chicken pasta, and our beautiful Tuscan chicken, all of which go great with an ice-cold beer.
Pork
Other premium meat entrées you'll find in our Chef's Selections menu include our sweet tea brined pork chops, oak-grilled, boneless, and cooked to perfection. This dish comes with our irresistible potato medley and mouth-watering asparagus.
Food and Beer to Go at Jacksonville Restaurants
Jacksonville knows where to go for the best entrées to pair with bottled beer. Stonewood Grill & Tavern offers an impressive variety of brews, ready to be delivered or for you to pick up and take home.