Tue, Feb 23, 2021 at 12:26PM
---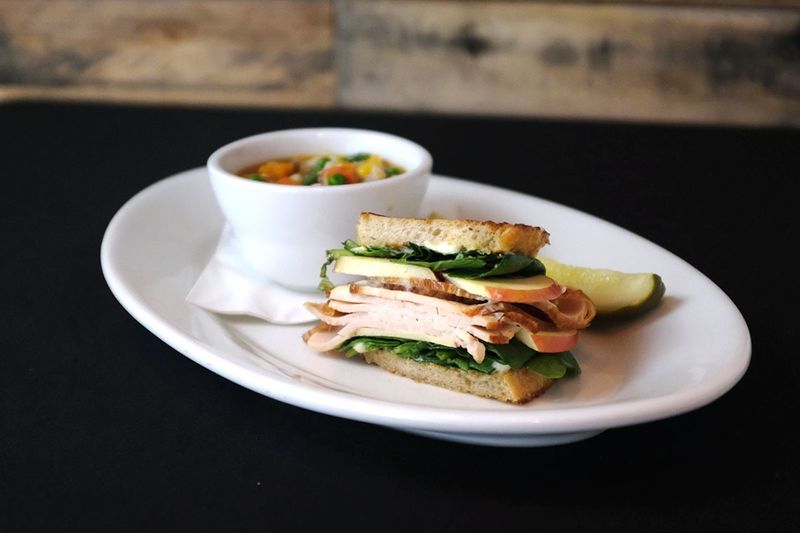 With such a delicious and varied menu to explore at Stonewood, it can be hard to determine the perfect decision for your next lunch. That's why we love pairing up delicious Pick 2 Lunch Combo options! It's an easy way to sample your way through your as-of-yet-untried options on the menu – or, simply to get in two of your lunch favorites instead of just one! Before your next visit, read on for a few suggested lunch pairings to help you get started with some tasty combinations – or, to allow you to shake up your usual routine at seafood restaurants in Ormond Beach and beyond to try something entirely new!
Caesar Salad and Half Bruschetta Chicken
One tried-and-true formula for a great lunch? Start with a delicious, fresh salad. Then, follow it up with a sandwich entrée. For a tasty excuse to get in your greens, opt for a classic Caesar Salad made with fresh romaine and Stonewood flair. Pair it up with crowd-pleasing handheld: a half portion of our Bruschetta Chicken sandwich. Marinated chicken breasts topped with delicious bruschetta, provolone, field greens, and a balsamic drizzle taste perfect inside a toasted brioche hoagie. Vibrant and colorful, this is the perfect fresh lunch choice for an Italian kick!
Heritage Onion Soup and Half Griddled Ham & Swiss
Is there anything cozier than pairing soup with a warm sandwich? Whether you're passing by a rainy day or are combatting any last winter chills, it's the perfect opportunity to create a delectable lunch pairing. When choosing a housemade soup option, consider trying out our Heritage Onion Soup. Rich beef and onion broth complement melted swiss and toasted croutons perfectly. If you're a cheese lover, you might also enjoy picking up a half Griddled Ham & Swiss sandwich. This familiar favorite has a fancy twist, adding shaved smokehouse pit ham and imported swiss alongside tasty dijonnaise, served up on griddled sourdough bread.
New England Clam Chowder and a Fish Taco
Finding yourself seeking out the best seafood restaurants in Port Orange and the surrounding area? Florida is definitely the right place to be when you're looking for from-the-sea dishes – and Stonewood serves them up right! Start your lunch off with some creamy and delicious New England Clam Chowder. This blend of chopped clams, diced potatoes, onions, celery, and cream is always a perfect pick. Follow the seafood theme by pairing your chowder with a tasty Fish Taco. Served griddled or blackened, enjoy tender white fish along with coleslaw, black bean and corn salsa, and Colby and pepper jack cheese, drizzled with basil avocado aioli.
Half Paris Turkey Sandwich and a Wedge Salad
Satisfy your hunger with a hearty sandwich-and-salad combination. Start with half of our Paris Turkey sandwich. You'll enjoy tender turkey breast on griddled sourdough bread, with creamy brie and some crispness of juicy Fuji apple slices and baby spinach. Our apple cider vinegar aioli is the perfect finishing touch. If you're a bleu cheese fan, consider pairing it with a Wedge Salad! Ours features chilled iceberg lettuce topped with grape tomatoes, crispy bacon, and bleu cheese crumbles and dressing.
These four ideas only scratch the surface of our favorite Stonewood lunchtime offerings. To experience the whole menu and all our Stonewood specialties at one of the best restaurants Daytona Beach FL has to offer, stop by soon for a lunch experience you won't forget!