Tue, Nov 30, 2021 at 8:56AM
---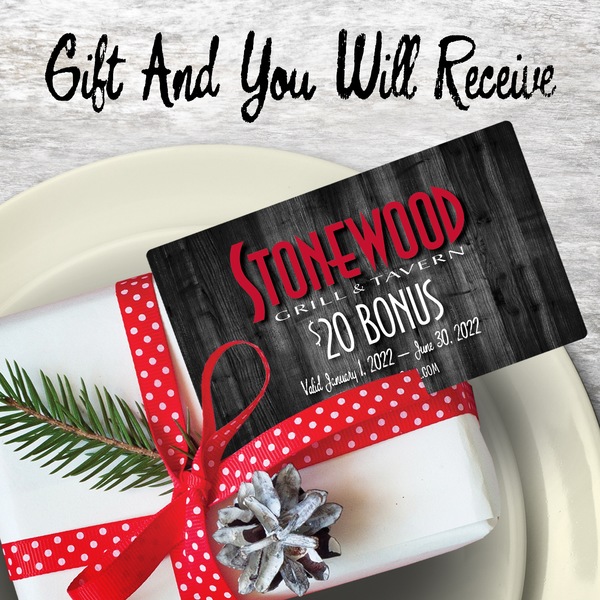 If you enjoy being the best gift-giver at any holiday festivity, then you know that sometimes it can be difficult to fill those shoes! But as your go-to for Jacksonville dining, we're here to help make your life a little easier this holiday season. We have the gifts everyone in your family will love. So, this year be your friends and family's best gift-giver with the gift of Stonewood. Here's how!
Give Them What They've Been Craving
There's nothing worse than watching your loved ones open your gift and instantly seeing their faces deflate. Let's face it – some people can be really hard to shop for and we don't always hit the nail on the head. But when you can give them exactly what they've been wanting, you can ensure happy faces all around. With a gift card to their favorite restaurant in Jacksonville, like Stonewood Grill & Tavern, you can ensure that they will be excited and hungry!
Put The Power Back In Their Hands
If you have a picky gift-getter in your circle, the ultimate key this holiday season will be to put the power back into their hands. Let them choose! How do you do that? You give them the ability to pick out exactly what they want with gift cards to their favorite spots. Gift cards are a great way to either give them something they've really been wanting but haven't had the time to do it themselves, or just another reason to dive into their favorite dishes. With a gift card to Stonewood, you really can't go wrong. They can use it to select their drinks, meals and desserts of choice, all while using it the way they want with in-person dining or curbside to-go.
Gift And You Will Receive
Another reason to opt for your favorite Jacksonville restaurants' gift cards as your go-to gift this year is that when you choose to gift Stonewood, you will receive Stonewood back! Spread the joy this holiday season by purchasing $100 in Stonewood gift cards and receiving a $20 bonus card. Plus, each additional $50 gift card purchase receives another free $10 bonus card! Sign us up!
Whatever you decide to gift this holiday season, we hope you feel the joy of doing so! And if you do choose to give the gift of a Stonewood Grill & Tavern gift card, just remember your locally-owned restaurant is doing a little happy dance every time. We can't wait to celebrate this holiday season with you!
Keep in mind – gift cards must be purchased before December 31, 2021, to receive bonus cards. Bonus cards begin January 1, 2022, through June 30, 2022. Click here to purchase today!