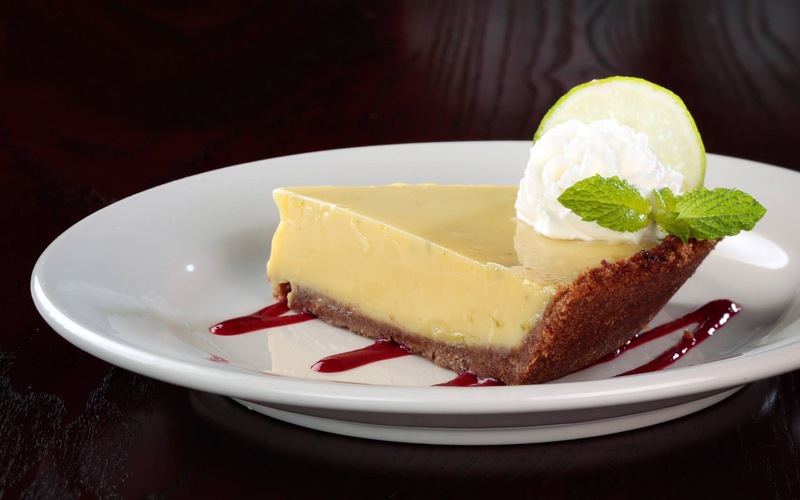 Here in Florida, there's never a wrong time to enjoy a cool, refreshing Key lime pie. But there is one day that's especially apropos: National Key Lime Pie Day on September 26th!
A day for savoring the bright, famously Floridian flavor of our beloved state dessert and all it represents: from our fresh produce to the fun-loving Key West spirit we try to emulate every day…
To hold you over until dinner, we've compiled a few fun facts that add an extra layer of charm to this delicious dish. Just take a look below.
How a pie becomes "official"
You've heard before, at parties and Sunshine State get-togethers, that Key lime pie is the official dessert of Florida. That's not a fact that needs too much research—after all, what else could it be? But what you may not have known is that the State Legislature officially declared the Key lime pie the state dessert in 2006 (in essence, our love for Key lime is basically written into law…).
It took a while to get here, though. Some lawmakers pushed for pecan pie instead, perhaps as a way to note Florida's Southern side, or to celebrate its role in the pecan industry. One lawmaker even wanted sweet potato pie!
But we're glad the Legislature went with Key lime instead. Though pecans are grown here, there is no denying that Key lime pie holds a special place in the heart of many Floridians, as well as the visitors who travel here just to get a taste of its sweet, gentle flavor.
Serious about sweets
In addition to naming the Key lime pie Florida's official dessert, days of legislation past have proved one thing: we Floridians are serious about our sweets. Especially our Key lime pie.
In 1965, one lawmaker, Florida State Representative Bernie Papy, Jr., proposed a law that would charge a $100 fine to anyone who advertised Key lime pie that was not made with real Key limes. Though that bill did not past, it's worth noting what makes a "real" Key lime, anyway: The real deal is smaller, with thinner skin, a yellower color and a distinct aroma—the sort that makes Key lime pie the treat we know and love it to be.
Speaking of authenticity… if you spot a Key lime pie that looks a little too green, run the other way!
Alright, you don't actually need to run. But know that Key lime pie, when made with true, yellow-leaning Key limes and no food coloring or other additives, usually takes on a much more understated hue, typically a pale yellow, like you'll find here at Stonewood!
From the largest Key lime pie…
If you're a Key lime pie aficionado, you probably can't get enough of the dish. The World's Largest Key Lime Pie was made for you.
Presented at the 7th Annual Florida Key Lime Pie Festival earlier this year, this record-breaking pie weighed in at 1220 pounds, spanning 12 ¼ feet across! To make the enormous dessert, the Florida Key Lime Company used 480 cups of graham cracker crust and nearly 13,000 ounces of Key lime pie filling, and perfected the top with giant paint rollers. Needless to say, there was enough to go around!
… to the smallest (bring a magnifying glass!)
On the other hand, it would be pretty hard to dig into the World's Smallest Key Lime Pie… but that doesn't make this culinary feat any less amazing.
Debuted at the Key Lime Festival down in Key West, this mini-sized treat was made with "the juice of 1/1000 of a Key lime," as well as 16 grains of brown sugar, 1/24th of a can of condensed milk, and 72 graham cracker microns.
It's certainly an amazing feat of fine motor skills—just about the finest—but as for us, we prefer our Key lime pies somewhere between these "smallest" and "largest" record-breakers!
How to enjoy
Wondering how to enjoy Key lime flavor? One of our favorite ways, naturally, is to dig into a good-old-fashioned slice right here at Stonewood Grill. Our House-Made Key Lime Pie is prepared with the classic touch: the deliciously soft, cool and tangy filling served in a graham cracker crust with whipped cream on top.
If you get cravings on the go, though, you can try your hand at a Key lime pie milkshake! Recipes for this delicious treat abound online, and usually involve pairing Key lime pie with ice cream or milk (for a creamy consistency), then blending it all up and topping with whipped cream and a sprinkling of graham cracker crumbs on top.
On National Key Lime Pie Day and all year round, enjoy a sweet, satisfying slice of Key Lime Pie to cap off your dinner here at Stonewood! Don't forget, of course, to impress the table with your newfound knowledge of this one-of-a-kind dessert.