Tue, Dec 19, 2017 at 3:20PM
---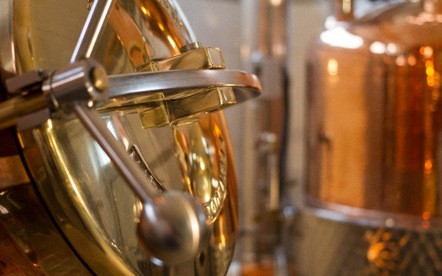 Theme parks. Beautiful beaches. Plentiful parks to explore. Add culture-packed craft distilleries to the list of Florida's most trip-worthy destinations.
Just like the state itself, these spots embody a unique kind style, an effortless blend of local heritage and spirits that can't help but stand out. But in the case of one such spot, Copper Bottom Craft Distillery, it's the personal touch—the family quality—that makes it a truly one-of-a-kind destination. Read on to explore.
Getting to know Copper Bottom
Located in Holly Hill, Copper Bottom offers you the chance to enjoy craft drinks by the coast—but its history extends far past Florida's current reputation as a top vacation destination. The site does not sit far from the remnants of North America's oldest sugar plantation and rum distillery, Three Chimneys—making Copper Bottom a destination that's seeped in local tradition.
For co-founder Jenni Craig, starting Copper Bottom and sharing that tradition with Stonewood Grill & Tavern was about more than just business—in many ways, it seemed to be fated from the start. Jenni had worked at Stonewood locations throughout college, and remembers seeing philanthropist and Stonewood CEO Gale Lemerand's name everywhere she went: from her fitness center to a street name at the University of Florida, and even the auditorium at her dream job at Embry-Riddle. When Copper Bottom first got started, then, it only made sense that Stonewood would be the first restaurant to proudly feature a Copper Bottom cocktail: the achievement of one of its very own.
The family element began with the very earliest makings of Copper Bottom—Jenni and husband Jeremy knew they wanted to start a family business, and Jeremy's father and both grandfathers had backgrounds in brewing. But it took one fateful European excursion and a few big changes—namely, the growing of their family and Jeremy's company being sold—to catapult Copper Bottom into existence.
"Our business plan started on a beverage napkin on a high-speed train in Italy," Jenni remembers.
Jenni, her mother and father-in-law, and Jeremy decided to begin their business—and used all of their unique backgrounds to do it: Jenni with marketing, for example, and her father-in-law's experience with the industry.
"We all brought something significant to the table," she says. To this day, family remains an integral part of Copper Bottom. The award-winning brand is up-and-coming, expanding across the state of Florida, and the whole crew's been there to help at every step of the way.
As for the unique name itself, "Copper Bottom" doesn't just sound good. It, too, possesses a personal significance to the distillery. It stems from 18th century British Royal Navy ships, which were clad in copper sheathing to speed up the boats, make them bulletproof, and keep the wood seaworthy for as long as possible. "Copper Bottom" came to be a symbol of strength on and off the water, of a steadfast, genuine, fear-nothing dedication that the distillery itself exemplifies.
Copper Bottom's most famous export would, naturally, have to be its rum: Silver or Gold, each making use of the unrefined sugar cane that once defined Florida's east-central coast. You can explore the behind-the-scenes work that goes into each on a tour or visit to the tasting room. When you're bringing the whole crew along, book a private trip for an even more personal experience, one that's sure to enhance your appreciation of the spirits you already know and love.
While you're in the area…
Making the trip from out of state? Or simply want to make the most of your coastal craft tour? One destination that's not to be missed is the St. Augustine Distillery. Another spot that's packed in historical significance, this distillery is located in America's oldest city—and its spirits boast fun, local references, with names like "New World Gin" and the aptly-named "Florida Cane Vodka."
While the distillery itself might be a growing enterprise, its location is familiar to local history buffs. The renovated ice manufacturing plant, a relic of early 20th-century St. Augustine, serves as the distillery's beloved home.
Like the family at Copper Bottom, the St. Augustine Distillery promises to make your visit worth the trip. Guests can enjoy tours or time in the tasting room to enjoy small-batch spirits, free of charge. Like the fortress Castillo de San Marcos, or St. George Street, the St. Augustine Distillery is steadily becoming a beloved attraction for locals and visitors alike.
A Stonewood must-do
Looking to enjoy your favorite flavors, like Copper Bottom Rum, closer to home? Your local Stonewood Grill & Tavern is serving them up! One must-do drink is our Copper Bottom Mojito. The recipe is simple but worth savoring: we combine Copper Bottom Rum with lime, mint, and simple syrup. With the quality foundation provided by Copper Bottom, the perfect drink is never complicated.
When you visit any of Florida's finest distilleries, there will be just one thing on your mind: "cheers!". Take a tour to see the dedication that goes into crafting your favorite spirits—then, enjoy them firsthand right here at Stonewood.