Tue, Dec 19, 2017 at 3:20PM
---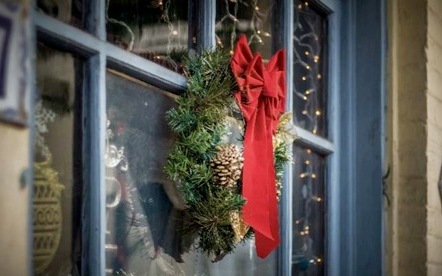 A Holiday Tour in Historic St. Augustine As America's oldest city, St. Augustine offers an immersive peek into the past—a historic treat nestled at the heart of Floridian paradise.
During the holidays, the allure is only amplified, making it a fitting excursion for locals and visitors alike.
Why St. Augustine?
It's especially fitting to celebrate winter festivities at St. Augustine—because the town's ties to the holiday season extend far back into its history. In fact, some have suggested that St. Augustine played host to America's first Thanksgiving, a humble event that took place 56 years before the Pilgrims broke bread at Plymouth. When Spanish Admiral Don Pedro Menéndez de Avilés arrived on shore in 1565, he and the new colonists—about 800 in total—took part in a Catholic mass to give thanks for their safety, and afterwards shared a meal with the indigenous Timucuan people.
University of Florida professor Michael Gannon noted that "It was the first community act of religion and thanksgiving in the first permanent settlement in the land." From then St. Augustine has served as a sort of foothold of Spanish culture in the Americas, and the effect can still be seen: today, beautiful porticos, colonial architecture, and cultural traditions—in and out of the holiday season—serve as cherished relics of Spanish influence.
Exploring the old city
St. Augustine's Spanish heritage makes it a haven for holiday traditions—and its biggest, the vibrant Nights of Lights, is just one of many activities to enjoy while you're in town. Consider exploring...
St. George Street
You won't need a car to explore this quaint street, a pedestrian‐friendly excursion that features shops and cafes that come alight during the holidays. Step into history as you stroll past gift stores where you can discover that perfect present, or snap family photos by the colorful storefronts and balconies that so aptly reflect the Spanish colonial aesthetic.
Wine and carriage rides
For your perfect holiday date night, a wine and carriage ride through Old St. Augustine to see the sights, the people, and those beautiful light displays. The ideal ambiance awaits. For family‐friendly fun, The Tasting Tours provide a Rockin' Red Roaster Ride that gives the whole crew to take part and enjoy the simplicity of this back‐to‐basics mode of transport.
Beautifully‐trimmed B&Bs
You won't find skyscrapers and lux penthouse suites in St. Augustine—when you visit, your accommodations come in the form of charming inns and bed‐and‐breakfasts, cozy destinations where people come first—and you can't help but feel right at home.
At this time of year, these destinations get a chance to express their spirit and tradition through the form of bright, elaborate light displays and holiday flourishes. Each has its own unique look—the inns vary from elegant Christmas trimmings to colorful, kid‐friendly displays of Santa Claus and toys galore. Whether you're checking in, or simply want to admire the ambiance, St. Augustine's inns are certainly worth a visit.
Live music
Holiday tunes are beloved—live holiday tunes, even more so! St. Augustine's holiday offerings include live music that is often played on cool weekend nights, at the Plaza de la Constitución's gazebo. After dinner, stroll up and sway to your favorite songs or just reflect on the warm, cozy spirit of the season. When they play, the musicians add a festive vibrancy to St. Augustine's streets that you can't find anywhere else.
Nights of Lights
Of course, all these activities revolve around the main event—the Nights of Lights. When it comes to big, beautiful holiday displays, St. Augustine knows no bounds, and lets the lights shine from November 18th all the way through the end of January! So no matter how hectic the season may be, you can always find time to delight at the age‐old tradition of lights, which dates all the way back to Spain's earliest holiday traditions. Spanish people would put candles in their windows at Christmastime as a sort of homage to the Biblical story of Mary, Joseph, and their search for an inn that might welcome them inside.
There's no "one way" to see the lights—for St. Augustine explorers, every spot offers a new opportunity to "ooh" and "ah" at the vibrant displays. Take a trolley ride through town for a relaxed way to soak in the sights, or take a boat tour. You can also visit the tree at the Plaza de la Constitución, or venture toward the Bridge of Lions for a sparkling, waterfront view of the lights.
For family fun or date night adventures, the warm, classic charm of St. Augustine makes it a must‐do for all. Rediscover a brighter, cooler side of Florida and get to know a destination that oozes culture and tradition, both at Christmas and beyond.