Wed, Mar 20, 2019 at 4:55PM
---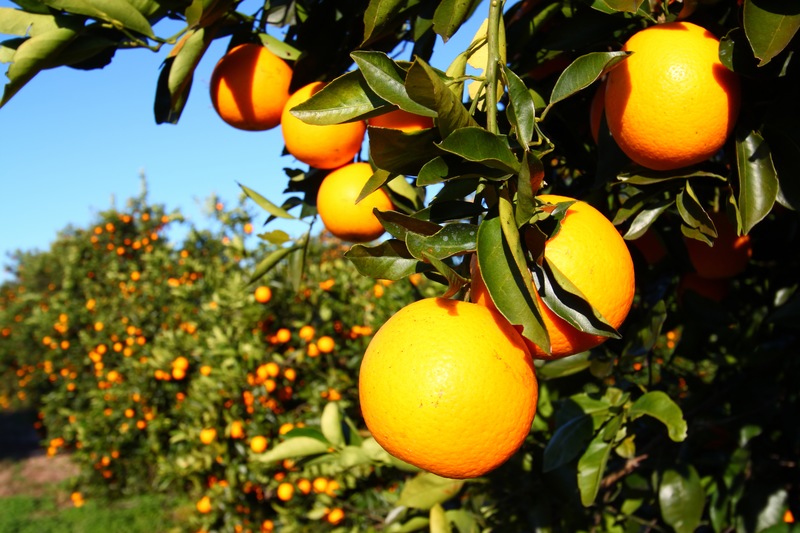 There's nothing quite like a sweet, juicy orange on a warm spring day—or perhaps a slice of our fresh Florida Orange Cake! But if one bite isn't enough, an orange adventure across the Sunshine State is sure to satisfy.
Read on as we share a few of our favorite local spots for orange aficionados!
St. Augustine
St. Augustine may be known more for its colonial allure than citrus groves—but as it turns out, America's Oldest City actually played an important role in the Sunshine State's orange scene!
Christopher Columbus brought the orange to the New World, but it was likely Spanish explorer Juan Ponce de Leon (the namesake for many familiar Florida destinations) who planted the first orange trees in St. Augustine. The rest, as they say, is history. As Florida grew its citrus scene did, too, and forever the Sunshine State came to be known for its warm, sunny climate and deliciously juicy oranges.
Florida Citrus Tower, Clermont
Located in Clermont, the 226-foot Florida Citrus Tower stands as a proud homage to the state's vibrant history. A midcentury marvel, it was opened in 1956 to give travelers the chance to admire Florida's orange groves as far as the eye could see. Today, much of Central Florida's landscape has changed—people live, work and play where many of those old groves used to grow. But the Citrus Tower is still a great place to visit on your orange adventure, and offers up beautiful lake views and glimpses at the thriving theme park scene just a few miles away.
Al's Family Farms, Fort Pierce
Of course, Florida's landscape may have changed—but there are still plenty of groves producing the sweet, tangy treat we all love. One of them is Al's Family Farms in Fort Pierce. Tours run through April 12th, and offer visitors the chance to get a behind-the-scenes glimpse at the farm's wash-line and packinghouse. Kids will love the O.J. Corral, and the whole crew will enjoy sampling fresh fruit and fresh-squeezed juice.
Mixon Fruit Farms, Bradenton
Over on the West Coast, Bradenton's Mixon Fruit Farms offer up another sweet adventure. This destination offers a day's worth of fun and fruity treats—you will find a kids' Amazing Play Place, gorgeous grounds for a picnic, and, of course, the Orange Blossom Express. On this family tram ride, you will be able to explore the grove, learn more about citrus, and even see rescued reptiles, birds and other animals who call the farms "home." Be sure to grab a bite (and, of course, some fresh-squeezed orange juice) at the Groveside Café before sending an orange gift, or perhaps some Mixon's Wine, to someone sweet!
Orange World, Kissimmee
For all things orange, no trip to Central Florida would be complete without a stop at Orange World. Its bright orange-shaped roof is impossible to miss (perfect for a sweet photo op), and inside is an abundance of Sunshine State gifts and delicious treats like Florida honey, orange marmalade and even orange butter to try when you're back home.
Craving an orange right about now? We've got you covered with our Florida Orange Cake, a local treat that features decadent three-layer cake, orange Bavarian cream, shaved white chocolate and a housemade blood orange whipped cream—a cool, citrusy touch that caps off this truly vibrant dessert.
The Florida Orange Cake joins Carpaccio, Six Cheese Lobster Mac and Macadamia Encrusted Mahi Mahi on Stonewood's latest Seasonal Flavors Menu, a selection of chef inspired creations you're sure to love. Pair your orange dessert with one of these delicious entrees for a meal to remember! We look forward to seeing you soon.