Wed, Feb 21, 2018 at 1:25PM
---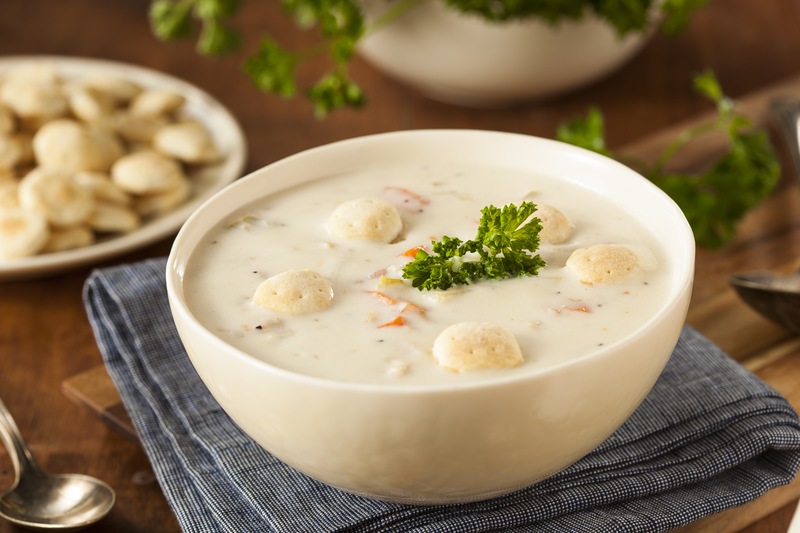 Warm, creamy and comforting, clam chowder has been a longtime classic of New England cuisine for a reason.
While the familiar dish might make a great cold-weather meal, however, it's easy to enjoy all year-round—even when Florida's winter temperatures are anything but icy!
We're taking a closer look at the dish we call clam chowder—and the way it won over the hearts of foodies from all around. Just read on.
A local treat
What makes clam chowder the quintessential New England treat?
While the dish likely made use of cooking styles carried over from France, Britain or Nova Scotia in early colonial times—from the 18th century on—it also capitalized on an ingredient that was readily available throughout the region: clams. The seafood staple that states like Massachusetts and Rhode Island happily claim as their own, served as the foundation of an easy, no-fuss comfort food dish that would one day make them famous.
No messing with perfection
What goes into making a delicious clam chowder—or, depending on who you ask, "chowda?"
As it turns out, even the most diehard chowder fans know that the makings of their favorite dish are fairly straightforward. Most regional recipes call for a simple mix of clams, potatoes, diced onions and a creamy base that makes the chowder delightfully thick and hearty. Perfection happens in the preparation, and seasoned chefs know to take care with the clams so that they don't overcook and become tough—instead, they maintain that tender perfection.
Of course, according to New England foodies, this is the way to make clam chowder—but other regional varieties have arisen all the same. Hatteras clam chowder, from North Carolina's Outer Banks, for example, is distinct in its clearer, thinner base and addition of more ingredients. Particularly troubling to those who swear by the New England method is Manhattan or New York clam chowder, a dish whose base takes on a red hue thanks to the inclusion of tomatoes in the broth.
Those tomatoes are so troublesome, in fact, that in 1939, a Maine lawmaker tried to outlaw the practice of adding them completely! It seems there's no messing with perfection when it comes to chowder… especially for the dish's most ardent fans.
Stonewood's take on clam chowder
If you're a New England native, you'll be happy to find that Stonewood's take on clam chowder follows in the classic, creamy tradition. You can enjoy it solo, or as the starter to a hearty main steak or seafood course. No matter how you do it, our clam chowder is sure to satisfy your hunger, put you at ease and make you feel right at home. It may be a tall order for such a simple dish—but we know that the chowder is more than up to the task.
Have you worked up a craving for chowder? We can help with that! Come down to Stonewood to enjoy this familiar dish (and discover some new ones along the way!). We look forward to serving you soon.