Sat, Mar 16, 2019 at 4:50PM
---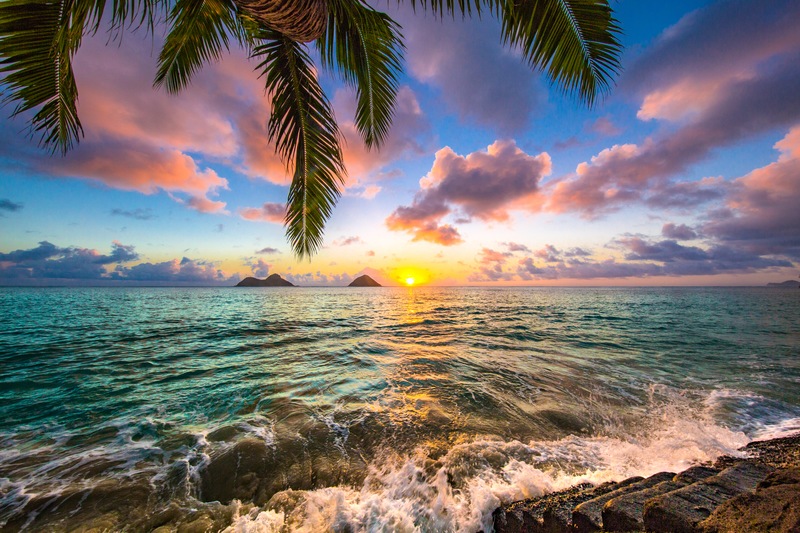 This spring season, we're saying aloha to fresh flavors, new adventures, and quality time spent exploring the outdoors with family and friends.
With dishes like our latest, our Macadamia Encrusted Mahi Mahi, a taste of the islands is never far out of reach—the fresh seafood entrée, featuring roasted chopped macadamia nuts and colorful island produce, is Hawaii on a plate. Of course, if you want to take things a step further, paradise is just a flight away…
Inspired by Hawaiian flavors, we're taking a virtual island-hopping tour of the Aloha State—its gorgeous beaches, lush, rolling landscapes, and, of course, fresh island flavors that have beckoned mainland foodies for years. Just pack your bags and take a look!
Stroll on a black-sand beach
When it comes to beaches, Hawaii breaks the mold. In addition to plenty of gorgeous, soft-sand beaches, the Big Island is home to a picturesque escape in the form of Punalu'u Beach. The striking black sand here is actually composed of old lava fragments, and forms a vivid picture against the backdrop of lush coconut palms and, of course, the rich blue water. Swimming is best when the surf is low, from a protected cove on the beach's northeast edge—of course, you might be content to simply kick back by the palm trees and indulge in the ocean breeze! Also be sure to look out for basking green sea turtles, who are as eager to enjoy the sunshine as you are. While the sand has to stay on the beach, the memories and gorgeous photo-ops are sure to last forever.
Cruise the Wailua River
Hawaii is naturally known for its abundance of ocean vistas, but Kauaʻi is actually home to another stunning water feature—the state's only navigable river, Wailua River. Winding its way past lush, rolling shorelines before arriving at the scenic Wailua Beach, this river adventure offers the perfect way to see a quieter slice of Hawaii life. Hop on a kayak or paddle board and enjoy the ride!
Go fishing, Oahu style
Hawaii is known for its delicious seafood flavors—which only makes sense, of course, since the islands are surrounded by some of the world's best offshore angling!
On Oahu's eastern shore, Kaneohe Bay offers colorful snorkeling and sandbar fun. Once you head farther out, though, you'll discover deep-sea fishing gems. Hop onto a chartered fishing boat and try for classic catches such as mahi-mahi (Hawaiian for "very strong," no doubt describing the fish's powerful pull), ahi and many more.
Explore Hawaii's culinary character
While spending time in Hawaii, be sure to discover the local food scene! Hawaii's cuisine is characterized by fresh seafood and colorful ingredients, such as pineapple, coconut and, of course, macadamia nuts, which traveled from their native Australia to Hawaii's Pacific shores in the 20th century and have been a sweet mainstay ever since.
Just as important as the food, of course, is the way it is eaten. Many of the most authentic Hawaiian culinary experiences revolve around laidback waterfront spots (such as Waikiki's Barefoot Beach Café) and lunch wagons which offer up fresh flavors on the go. These wagons, akin to food trucks, may seem unassuming, but they actually deliver some of the islands' most beloved flavors. You can't go wrong with a delicious plate lunch, a Hawaiian mainstay that pairs macaroni salad and rice with a flavorful entrée, or perhaps a poke bowl. Don't forget to cap it all off with a shaved ice—this simple sweet is a popular and oh-so-satisfying way to survive those hot Hawaii days.
Back at home…
When you're dreaming about your island getaway, Hawaiian-inspired flavors on the mainland offer up the next best thing. In addition to our Macadamia Encrusted Mahi Mahi, classic Stonewood picks like our Seared Ahi Tuna or Crunchy Mahi Mahi Sandwich offer you the chance to transport yourself to the breezy, easygoing spirit of the islands—if only just for dinner! Even smaller touches, such as our pineapple chili sauce and coconut lime aioli, serve as sweet homages to the tropical paradise. Come by and enjoy our fresh island eats soon.