Wed, Jan 25, 2023 at 7:20AM
---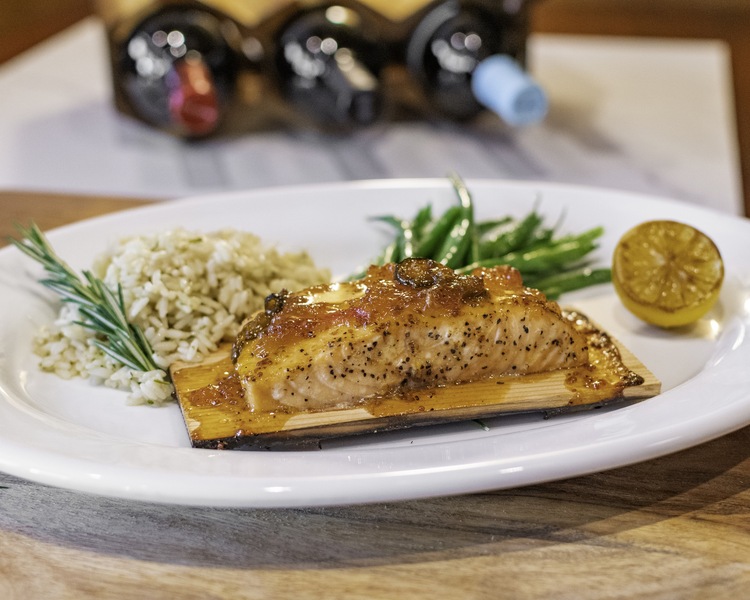 When a restaurant treats seafood with love, seafood lovers stand up and take notice. And Stonewood is repeatedly coming up in the conversation about seafood restaurants near Daytona Beach.
Seafood fans love a delicious catch of the day, but they also have an eye for quality and recognize when a restaurant takes seafood seriously. Here's why the most seafood-savvy restaurant-goers are raving about Stonewood's eclectic and exciting menu.
Fresh First
Even some of the best restaurants near Daytona Beach can't boast an ever-changing fresh catch on their menus. Stonewood's market fresh selections feature high-quality Atlantic salmon, yellowfin tuna, and a rotating fresh catch.
Each fish is prepared to enhance its natural flavors without too many bells and whistles. The market fresh fish comes oak-grilled for that fire-roasted flavor, with herb butter and a simple but delectable house seasoning. Or you can go all-in on intense flavor and choose blackened seasoning for more of that unique char.
Whichever you choose, the market fresh fish emphasizes Stonewood's dedication to serving Daytona Beach nothing but seafood as it was meant to be eaten — freshly caught, prepared with care and love, and enjoyed by those who can appreciate all that went into it.
Incomparable Variety
Maybe you're looking for something with a bit more kick. Stonewood is still a go-to for anyone who likes dishes that push seafood
into new realms of flavor. The kitchen has curated a menu unlike any other restaurant in Daytona; there isn't a single area section that isn't packed with mouthwatering seafood options.
Poke bowls are a standout option for seafood lovers, and Stonewood gives you two ways to enjoy them. The traditional poke features sushi-grade rare tuna poke and jasmine rice. Then it kicks it up with house-made Asian slaw, watermelon radishes, edamame, carrots, and fresh cilantro, all topped with a hit of sriracha aioli.
Or maybe you'd like to try the Cedar Plank Roasted Salmon, a dish living in an entirely different flavor zip code. With zesty and lightly sweet apricot mustard, a jalapeno glaze, sauteed green beans, and smoky poblano rice, this dish fiercely and unrelentingly celebrates the beautiful salmon.
Something for Everyone
Are you a seafood lover in training? You'll be glad to hear Stonewood has something for you.
If you think market fresh fish or Cedar Plank Roasted Salmon aren't for you, opt for the crispy fried deliciousness of our Buffalo Shrimp or the creamy indulgence of our Spinach, Crab, and Brie Dip. Both dishes showcase seafood in a loving way that's approachable for all ages and palates. Soon enough, you'll be ordering every other seafood dish like one of the pros!
Stonewood: One of the Top Seafood Restaurants Near Daytona Beach
These dishes are only a small sample of what the talented chefs at Stonewood can achieve with their passion for seafood, which is why this Daytona Beach restaurant is a must-visit for any seafood lover. And even if you don't think of yourself as a seafood lover now, you'll leave as one after just one visit to Stonewood Grill & Tavern.