Mon, May 23, 2022 at 4:20PM
---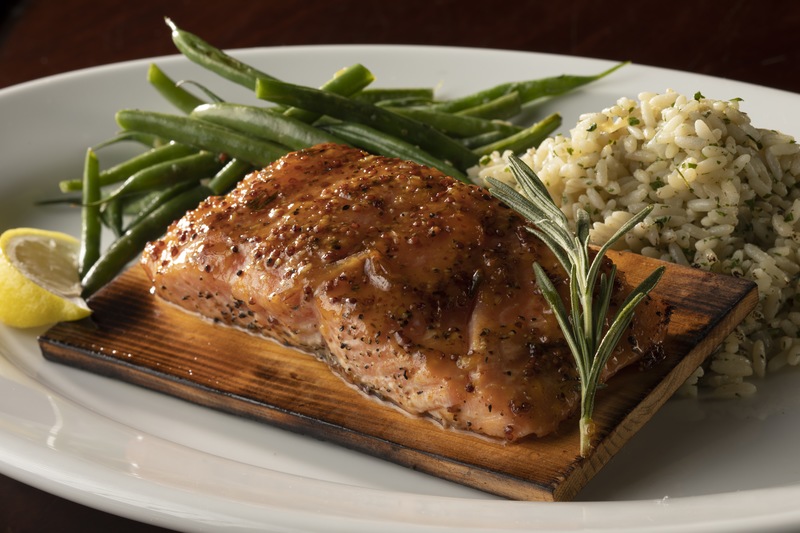 Taking your friends and family out to eat is a way to show your love and appreciation for them. When you choose one of the restaurants in Brandon, you want to look for delicious meals that you know they'll love.
Stonewood Grill and Tavern has plenty of savory dishes for your favorite people to enjoy. Here are some of the best meals at Stonewood to give to your loved ones:
Cedar Plank Roasted Salmon
The Cedar Plank Roasted Salmon dish is perfect for the person in your life that loves a full flavor profile. Salmon is one of the most popular seafood dishes because of its mild flavor. This dish contains complementary ingredients that highlight all of the best sweet, savory, and salty notes a person can enjoy.
Along with the delicious roasted salmon, this meal comes with the following ingredients:
Apricot mustard
Jalapeño glaze
Sautéed green beans
Poblano rice
The jalapeño glaze adds a kick of heat, while the apricot mustard adds just the right amount of sweetness. All of these tastes mixed together make a complex, sophisticated flavor profile.
Sweet Tea Brined Pork Chop
Sweet tea is a classic drink that brings many people back to their childhoods. Our 10-ounce center-cut pork chops pair well with the subtle sweetness of sweet tea brine. Included with this dish are sides of potato medley and asparagus to balance out the meaty main course.
Our pork chops are oak-grilled for a mild smokey flavor and gorgeous brown color. Each center cut is boneless and deliciously tender, making it the perfect "I love you" gift for the pork lover in your life.
Blackened Chicken Pasta
Pasta is a classic dish that's loved by almost everyone. Our Blackened Chicken Pasta is made from bowtie noodles smothered in rich chardonnay cream sauce. This delicious pasta dish contains sundried tomatoes and spinach for some additional plant-powered flavor.
On the side, you get griddled garlic bread to complement the flavors of the creamy pasta. Blackened chicken has a unique flavor profile that adds depth and savoriness to any creamy pasta dish. If you know someone who lives for pasta, this is the dish for them.
Southern Fried Shrimp
If southern comfort food is important to your loved ones, the Southern Fried Shrimp is the perfect gift meal. This dish contains crispy jumbo shrimp, tartar sauce, and pineapple chili with a side of french fries. Your guest can choose from one of our other sides as their included second side.
The sweet-and-spicy combo of the pineapple chili mixes refreshingly with the tang of tartar sauce and seafood. Your loved one is sure to devour this modern twist on classic southern-fried food.
Healthy sides include a baked potato, asparagus, creamed spinach, and a side salad. For more savory side options, choose from roasted garlic whipped potatoes or poblano rice. You can customize this dish to your loved one's liking and deliver the ultimate southern shrimp meal.
Brandon Restaurants: Gifting Meals for Friends and Family
Everyone loves to eat their favorite foods. If you need a new way to show your love to friends and family, try gifting them a meal from one of the best Brandon restaurants: Stonewood. These dishes combine complementary flavors for the perfect flavor profile that is sure to satisfy.
No matter where you are, you can always drop by to give the gift of a hearty, satisfying meal to your loved ones. If you want a more formal celebration of your loved ones, you can reserve a table at Stonewood to enjoy fresh-cooked foods at your leisure. The way to a person's heart is through their stomach, after all.