Thu, Jul 27, 2023 at 11:30AM
---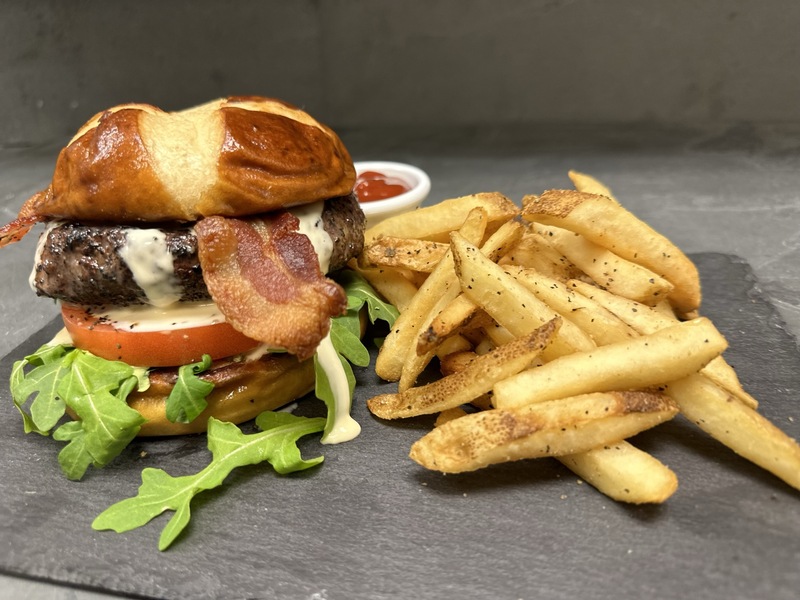 As the final days of summer slip by, we're soaking up every last ray of sunshine and celebrating the end of the season with good friends, good times, and great food. Stonewood Grill & Tavern is bidding a flavorful farewell to summer by bringing back fan favorite dishes for a limited time engagement!
Stop by while you still can to enjoy returning classics alongside refreshing new cocktails that capture the essence of summer. From the juicy sweetness of ripe produce to the smoky sizzle of the grill, we're serving up dishes and drinks bursting with flavor. Our expert chefs have taken advantage of peak seasonal ingredients to create an end-of-summer menu filled with crave-worthy plates showcasing produce and seafood at their finest. Our limited-time dishes offer a delicious reason to stop into your neighborhood Stonewood and soak up the season's last stand!
Seasonal Ingredients, Familiar Favorites
Late summer produce brings bountiful fresh flavors, which our expert chefs have translated into crave-worthy plates. Taking advantage of peak seasonal ingredients allows us to deliver new twists on Stonewood specialties you know and love. From Ginger Lime Wings to Bacon Wrapped Scallops and Herb Encrusted Grouper, our end-of-summer menu offers the perfect reason to enjoy a delicious end-of-season dish. Our chefs take advantage of the natural flavors of just-picked produce as well as the ocean's bounty, like scallops and grouper, before they go out of season. We've crafted a menu that captures the tastes of summer through dishes you'll crave all year long.
Satisfy Your Sweet Tooth
Of course, no meal is complete without something sweet to finish. Our chefs have dreamed up a delicious summer-inspired dessert in the form of our Strawberry Shortcake Cheesecake. Layers of strawberry compote, shortcake and New York cheesecake make every bite worth saving room for. It's finished with shaved white chocolate and housemade strawberry sauce. We're serving up desserts that capture the essence of the season – just one bite transports you right back to summer!
New Seasonal Sips
To wash it all down, be sure to also try our refreshing new Stonewood Vodka & Sodas. We've blended zesty fruit flavors like Strawberry Lemon and White Peach with soda water and Grey Goose Vodka for the ultimate summer sips. These crisp, fizzy cocktails capture the season in a glass. Kick back with a refreshing drink made for summer relaxation as the season winds down.
Menu Highlights
Let's highlight some of the dishes bringing the flavors of summer to Stonewood's limited-time menu:
Ginger Lime Wings
Our jumbo wings get treated to the sweet and zesty flavors of ginger, lime, garlic, and cilantro. Seasoned and fried to crispy perfection then tossed in our house made Asian-style glaze, these wings pack big flavor in every juicy bite. Served with a cooling lemon aioli dipping sauce, they're summer on a bone.
The "Triple B" Burger
This mouthwatering burger starts with a custom blend of short rib, brisket and chuck that's grilled to juicy medium rare. Topped with aged brie, hardwood smoked bacon, arugula, and a thick cut tomato, it's a flavor powerhouse stacked high on a pretzel bun. The "Triple B" encapsulates all the indulgence of summer in one incredible sandwich.
Herb Encrusted Grouper
Delicate grouper gets treated to a flavorful crust of fresh herbs and balsamic vinaigrette then served atop turmeric rice and grilled asparagus. Basil parmesan bruschetta provides the perfect finishing touch to this light and bright entrée ideal for the lingering days of summer.
Bacon Wrapped Scallops
Plump sea scallops deliver sweet ocean flavor when wrapped in hardwood smoked bacon and oak grilled. A custom apricot mustard glaze adds just the right balance of sweet and heat. Enjoy this surf-and-turf selection served with your choice of summery sides.
From refreshing libations to dishes packed with the tastes of summer, our limited-time menu provides a delicious reason to stop into your neighborhood Stonewood Grill and celebrate the end of the season. Call ahead for Curbside To Go or dine with us before these crowd favorites disappear. However you choose to enjoy them, we look forward to serving you a taste of summer's last stand!