Mon, Oct 09, 2023 at 4:34PM
---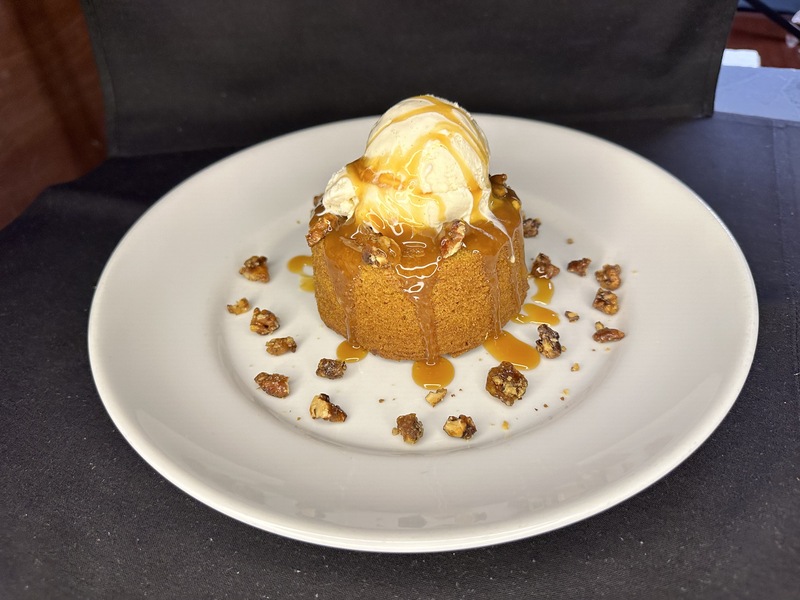 Get ready for a blend of oak grilled flavor and seasonal spices: the vibrant colors and tastes of autumn are taking center stage on Stonewood's limited-time fall menu! We've got a full array of chef-crafted specialties inspired by the season awaiting your discovery. So, what ingredients can you expect to find featured at Stonewood this season? Read on for a tour of our exciting new dishes!
A Harvest of Autumn Vegetables
There's a reason that we associate fall with cornucopias – and the beautiful array of harvested vegetables within them. When you consider harvest flavors, you're likely thinking of some of these tastes, like sweet potato, yellow squash, zucchini, and carrots. You'll find all of these flavors featured in our tasty new Fall Fritters, an appetizer inspired by Hindi street food (Pakora) that you'll definitely want to try before your main course! Pair it with our zesty sumac and mint yogurt dipping sauce for an unexpected combination that might just be your new favorite. It's perfect for sharing, too – and what's a fall feast without friends and family?
So now that you've tried an appetizer, you're looking for the perfect main course. If you're up for seafood, look no further than our new Guava BBQ Salmon! We hand cut fresh Atlantic salmon in-house, then baste it with a house made guava rum infused BBQ sauce – a pairing of flavors that is perfect for a cozy, yet unexpected autumnal meal. It pairs perfectly with our delicious fall veggie hash, a melody of butternut squash, sweet potato, charred corn, fresh baby spinach, and savory bacon strips. Delicious!
Beautifully Braised Flavors
If you're not into seafood but are seeking some savory autumn flavors, might we suggest our Osso Buco? It's a classic of Northern Italian Lombard cuisine, and its warm, hearty flavors are a star of the show on our autumn menu.
If you're not familiar with the dish, we start by marinating our bone-in center cut pork hind shank for 24 hours, then slow cook and braise it in a vegetable white wine broth. The result? A delicious, tender, flavorful entrée, paired with turmeric-infused rice and garlic-butter sautéed green beans. Savory gravy and refreshing gremolata complete the meal. It's truly a banquet of flavors in a single dish.
A Fusion of Zesty Character
So, we've heard plenty about the warm fall flavors you'll expect on our menu. But – looking for some zestier options? Allow us to introduce our Achiote Chicken. These hand-cut chicken breast skewers are marinated and basted in an achiote olive oil blend, then oak-grilled for some smoky, seasonal flavor. We're serving them up with duck fat roasted heirloom fingerling potatoes, brussels sprouts, and a charred scallion chimichurri.
Indulgent Autumnal Sweets
Sure, you've tried all the savory flavors of the harvest. But don't overlook dessert! Our go-to for the fall season? Our decadent Pumpkin Lava Cake a La Mode. Candied walnuts and a brown sugar dark rum caramel sauce are perfect atop a scoop of vanilla bean ice cream and our warm, oozy pumpkin cake. It's the perfect finish to an autumn evening!
Cocktails That Toast to Fall
We've got two special drinks that are perfect for embracing the spirit of the season. First, try a Pumpkin Spice Latte Martini, which intertwines Stoli Vanilla and Kahula Coffee Liqueur with the nostalgic warmth of pumpkin pie syrup. It's a rich, creamy drink perfect for celebrating anything exciting the season brings.
On the other hand, make sure to taste our Smoked Maple Old Fashioned – which will put you right in the mindset of a cozy autumnal bonfire. This nut-flavored woodchip smoked drink features Woodford Bourbon, premium maple syrup, and bitters, with a Filthy Black Cherry and orange peel garnish.
Limited-Time Autumn Flavors Await at Stonewood
All these delicious fall offerings – and so many more fan-favorite dishes – are just a reservation away! We're giving you a limited-time invitation to savor all the best of the season. So, book your table today at Stonewood for a meal as rich and delightful as autumn itself.