Fri, Jun 22, 2018 at 3:55PM
---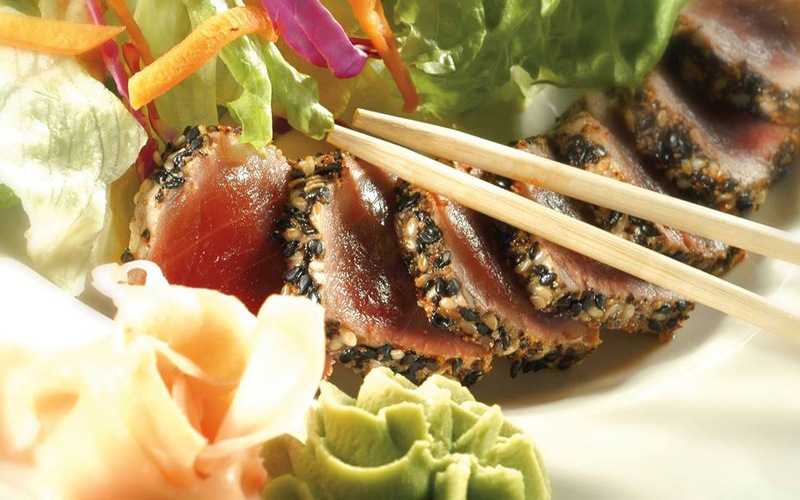 Ah, the amazing ahi. If its vivid red hue suggests something special, its light, refreshing flavor confirms it—this is a real summer treat.
At this time of year, it can be fun to switch up your routine—to spring from turf to surf, to indulge in bright, tropical flavors you might typically associate with an island escape. If that sounds like you, ahi's worth a try! From the Hawaiian name for the big yellowfin tuna, ahi is perfect as a vibrant steak or cool, springy rolls. Here at Stonewood, you can try both!
Read on as we share a few tasty ways to enjoy ahi on your next visit—as well as some of the features that make it such a favored fish.
Aloha, ahi
If ahi reminds you of another famous seafood dish—mahi-mahi—it might be because the two fish were both named in Hawaii. Ahi specifically refers to large tuna species, especially the yellowfin tuna, a big catch that can grow beyond a whopping 400 pounds! We'll dish on the feat of catching one in a bit—but first, we're digging into what makes ahi a culinary favorite.
At first glance, ahi's vibrant coloring catches your eye. While the fish itself is silver and blue with subtle streaks of gold, its meat is bright red or purple, and very firm to the touch. It holds its shape well and does not have a lot of fat, making it a treat to work with. It lends itself to sushi-style dishes, where a light searing encapsulates the juicy, refreshing flavor within, as well as steak where you can really appreciate the heartiness of the cut.
2 ways to enjoy
Looking for a guide to ordering ahi on your next dinner out? Here's the scoop on two Stonewood dishes you might have your eye on…
- Seared Ahi Tuna: A bright way to begin any meal, our Seared Ahi Tuna is made with sushi-grade ahi that is rolled in a flavorful medley of spices and sesame seeds. We then sear it rare, giving the fish a tasty outer crust while letting the meat inside really do the talking.
- Order if: You already love sushi, or simply want to begin your meal with a "bang"
- Tuna Steak: Ahi is also the star of our Tuna Steak, a hearty cut of ahi tuna that is marinated, oak-grilled to medium rare perfection and served with a crisp Asian slaw for an added, cool crunch.
- Order if: You want to switch up your traditional steak dinner, or love trying fresh takes on fish
Angling for ahi
Once you get a taste of the endlessly refreshing ahi, who could blame you for seeking it out yourself, from the other end of a fishing rod? If you're in Florida, you're already in luck, because the state's offshore angling spots are prime grounds for yellowfin and other prized catches. This is a fast-moving fish, so trolling is a smart way to catch them in action. From there, you can't go wrong with a tuna feather lure that will move with you!
Craving a tropical seafood treat? We'll see you soon with ahi bites that are sure to please.