Thu, Jan 28, 2021 at 5:50PM
---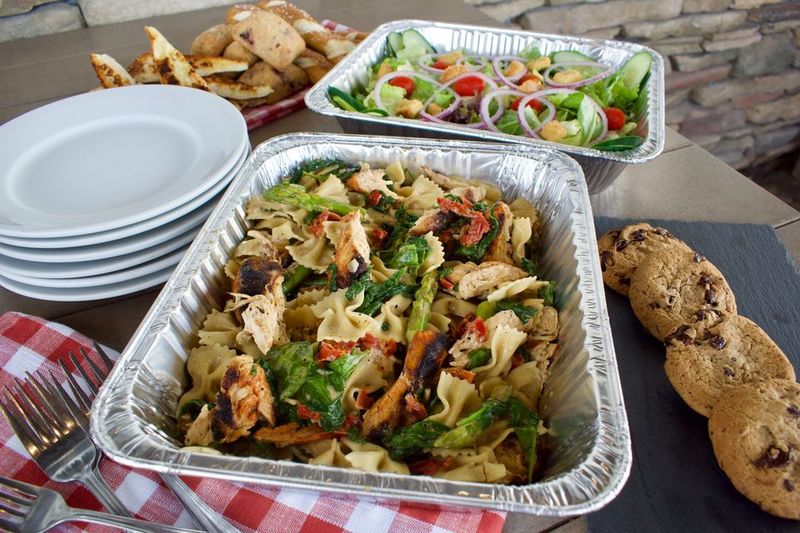 Looking for a time-saving, delicious, 3-course dinner for you and the family? Getting takeout has never been so easy with Stonewood Family & Beverage Bundles! Read on below for some of the most convenient reasons to consider getting one (or a few) today, available curbside to-go or for delivery!
Stay Comfy at Home
Nothing feels quite as comfortable & cozy as being at home - so why not stay in for your dinner? This option is perfect for those who are a bit more of a homebody, and will also save you quite a bit of money. Put on your comfiest clothes and get digging into our Cheesesteak Pasta, featuring a mixture of marinated ribeye and tenderloin cuts, tender cavatappi pasta, caramelized onions, mushrooms, and green bell peppers topped with a creamy cheese sauce, and griddled garlic bread. All of our family bundles also include bread and butter, along with fresh baked chocolate chunk cookies for a decadent dessert.
No Hassle of Prep & Cooking
They say time is money - and we agree! Save yourself & your family the stress of cooking by picking up our Tuscan Chicken, which would take hours to prepare otherwise. Indulge in oak grilled marinated brick chicken, goat cheese, sun dried tomatoes, mushrooms, roasted garlic, fresh herbs, spinach, green beans, artichokes, and lemon beurre blanc, along with your choice of 2 family-style sides, such as roasted garlic whipped potatoes, sautéed green beans, or poblano rice.
Drink to Your Heart's Content
One of the concerns when going out to eat is being careful about how much to drink - after all, there's always the drive back post-dinner. Let go of these worries by ordering one of our many beverage bundles (don't worry, we won't tell if it's just for yourself)! On the cocktail side, try our Margarita bundle, available in classic lime, kiwi, peach, or strawberry. If Moscow Mules are more your speed, we have those, too - make sure to have your copper mugs ready! For something a bit lighter, consider the red & white sangrias. Last but certainly not least are our Mimosas bundle with your choice of fresh juice - which you could even save for a little pick-me-up the next morning!
All Hail Leftovers
Our family bundles are designed to be reheatable so that they're just as delicious - if not more delicious - on day 2. Our bundles are built for 4, so if you're serving for any less than that, then you're sure to have some waiting for you tomorrow, like our signature Blackened Chicken Pasta, with bowtie pasta, spinach, sun dried tomatoes, asparagus, rich chardonnay cream sauce, griddled garlic bread, and a family-style salad to boot.