Fri, Jul 08, 2022 at 9:50AM
---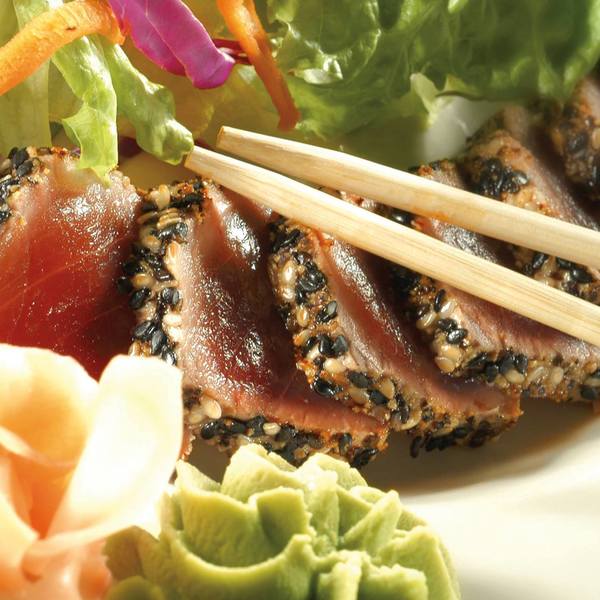 Everyone has one particular part of going out to eat that they look forward to the most. Some want to get straight to a satisfying entrée, while others enjoy savoring an appetizer or a refreshing beverage first over some great conversation with family and friends. And some would rather skip the meal altogether and get straight to a decadent dessert or two!
Whatever the best part of dining out might be for you, it's important to try something new every once in a while to make sure you're not missing out on your next favorite dish.
Not big on appetizers? That could always change! The next time you're feeling adventurous during a night out at Stonewood Grill & Tavern, don't hesitate to add the Seared Ahi Tuna to your order.
If you've only heard of ahi tuna in the context of a fully raw sushi roll, you're not alone! The imaginative team at Stonewood decided to take this classic sushi offering in a totally fresh direction by pan-searing it to perfection — after thoroughly coating it with various spices and sesame seeds.
Then, it's served up hot and fresh with mixed greens, ginger, wasabi, and a delicate sesame ginger dressing on the side to complete the flavor profile. Everyone at your table is sure to love this completely unique dish!
Why Seared Ahi Tuna Is a Must-Try at the Best Restaurants in Sarasota
There's a reason why Stonewood is considered one of the best restaurants in Sarasota and cities throughout the Sunshine State, too. This inviting and cozy establishment is proud to be a locally owned and operated Florida staple with a wide variety of top-quality seafood, juicy steaks, delectable chicken entrees, and so much more.
The incredible chefs at Stonewood are always finding new ways to innovate the dining experience, like with their Seared Ahi Tuna!
So why is the Seared Ahi Tuna one of the biggest table pleasers among the guests at Sarasota restaurants like Stonewood? Take a look at four reasons you should consider including this popular appetizer in your next meal out with family and friends.
1. High Quality That Will Impress Even the Biggest Sushi Lover
Stonewood never uses anything but the best ingredients, which is why the ahi tuna used in the Seared Ahi Tuna appetizer is always sushi-grade. Is there a sushi pro in your party who only eats the highest quality fish? They're sure to be pleased after just one bite of this signature entrée.
2. Great Way to Introduce a Newbie to Ahi Tuna
What if you don't have a sushi connoisseur among your party dining out — but rather a seafood newbie who has never ventured from the flavor palettes of the land to those of the sea?
Though the Seared Ahi Tuna is made with fish so fresh it could be served raw, this appetizer is lightly seared so that your companion can try out a delicious seafood dish that's prepared similarly to some of their favorite chicken or steak offerings.
3. Two Different Sizes to Choose from
Ordering the perfect appetizer to please everyone at your table can be difficult. What if the dish is too big or small for the number of people in your party? Luckily, the Seared Ahi Tuna at Stonewood comes in two sizes so that you can order the perfect amount of seared goodness for your table.
4. It Makes for an Excellent Palate Cleanser
You may have heard that a bite of ginger is the best way to cleanse your palate between dishes. With fresh ginger as well as a sesame ginger dressing, the Seared Ahi Tuna is sure to do just that (while exciting your taste buds as well).