Thu, Dec 29, 2022 at 11:45AM
---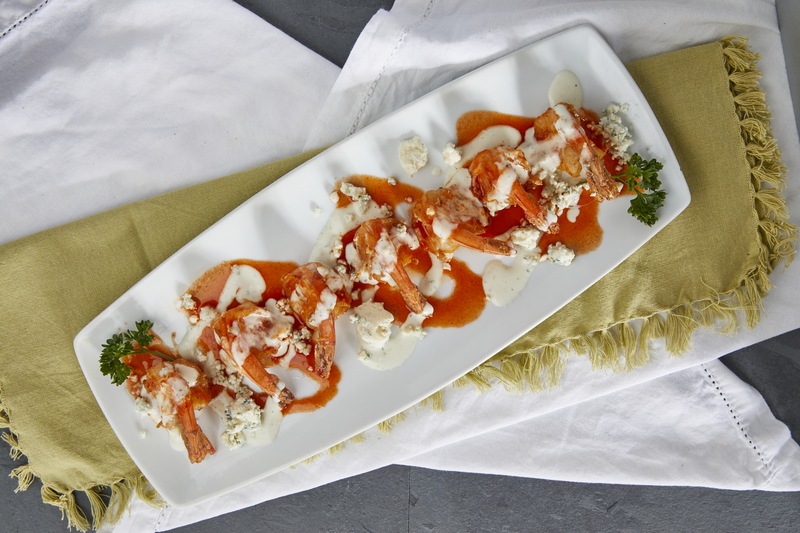 Some of the best restaurants near Tampa serve seafood dishes year-round. Most people want hot, buttery, delicious meals during the winter season to beat the cold. If you are a seafood lover and want to change up your usual order, we have some unique pairings you can try. At Stonewood Grill, one of the best seafood restaurants in Tampa, we get all of our seafood fresh from the market. You never have to worry about the quality of your fish dish!
Buffalo Shrimp
You have probably never heard of buffalo-flavored shrimp, but now is the best time to try it. Our Buffalo Shrimp appetizer combines the well-loved flavors of buffalo wings with easy-to-eat fried shrimp. We serve our Buffalo Shrimp dish with bleu cheese crumbles, bleu cheese aioli, and mild buffalo sauce. The shrimp is lightly seasoned to give it some extra flavor that compliments the buffalo sauce. Bleu cheese pairs perfectly with buffalo flavors. If you normally love chicken wings dipped in bleu cheese, this appetizer is perfect for you! Switch up your usual order by choosing the Buffalo Shrimp instead.
Ginger Lime Tuna Steak
Ginger and lime are sharp, noticeable flavors that taste great in moderation. Our Ginger Lime Tuna Steak combines flavors of the sea (tuna) with citrus and mild spice. Our tuna steak is oak-grilled to medium rare and served with an Asian slaw mixture. We scatter scallions and pour ginger lime dressing over the dish with some sriracha aioli. If you are tired of the same old fishy seafood flavors and want to branch out of your comfort zone, the Ginger Lime Tuna Steak is the perfect dish for you!
Southern Fried Shrimp
Craving some fried shrimp but not a fan of boring cocktail sauce? No problem! Our Southern Fried Shrimp dish puts a surprising twist on one of the most popular seafood ingredients out there. Our Southern Fried Shrimp comes with a pineapple chili sauce, a side of your choice, and french fries. The pineapple chili sauce mixes sweetness with spicy notes to create the perfect southern flavor palate. Fans of southern seafood dishes will love our Southern Fried Shrimp. We fry each jumbo white shrimp to crispy perfection.
Spinach, Crab, & Brie Dip
You may not think of brie and spinach as complementary to the flavors of crab, but our Spinach, Crab & Brie Dip is one of our most popular appetizers. Made with melted brie, white cheddar, parmesan cheese, and creamy spinach, this appetizer starts your meal off the right way. We use tender lump crab to give this dip a soft, creamy texture. If you like cheesy starters, this seafood dish is perfect for your table. Crab is well-loved across the world for its unique but mild seafood flavors. Mix up your normal crab order with this delectable dip!
Enjoy These Dishes at Seafood Restaurants in Tampa
If you are near Tampa, Florida, and want to spice up your usual seafood order, try something new, like one of these Stonewood Grill dishes. You are sure to leave the restaurant in love with the flavors of the sea.